Tungsten wedding rings are incredibly durable, making them a modern choice for any bride or groom. Nothing says "I'm taken" quite like a bold tungsten wedding band.
In this guide, we'll provide everything you need to know about tungsten rings, including: cost, pros and cons, cleaning tips, the best tungsten rings, and more.
What is tungsten?
Tungsten is the world's hardest metal and is known for its durability. Black tungsten and gun metal gray tungsten are the most popular colors. Tungsten rings are made from tungsten carbide. Tungsten carbide is the result of combining tungsten with carbon.
Related: What Does A Black Wedding Ring Mean?
Did you know?
Tungsten is about 10 times harder than gold, and 4 times harder than platinum or titanium.
Tungsten means "heavy stone" in Swedish.
Tungsten rings are scratch-resistant.
Tungsten is also much more affordable and scratch-resistant than other luxury wedding ring metals like gold or platinum.
What are tungsten rings made of?
Tungsten carbide is a compound made from raw tungsten metal and carbon. Tungsten rings are made of 85% tungsten carbide and 15% nickel. Jewelers often use the terms tungsten and tungsten carbide interchangeably.
Curious whether tungsten is the best metal for your wedding or engagement ring? Read on for all the information you need about tungsten rings.
How much do tungsten rings cost?
Tungsten rings are more affordable than rings made with other luxury metals like gold or platinum.
When shopping for tungsten rings, be sure to purchase your ring from a reputable jeweler.
What are tungsten rings worth?
In 2022, The average cost of a simple, 8mm tungsten ring from a reputable jeweler is $266. [READ: The 7 Best Places to Buy Tungsten Wedding Bands Online]
Nickel and cobalt act as binding agents that keep metal together and permit shaping. Cheaper tungsten rings made with cobalt can tarnish. [READ: Why are tungsten rings so cheap?]
| | |
| --- | --- |
| Jeweler | Cost |
| Blue Nile | $390 |
| James Allen | $232 |
| Jared | $140 |
| Larson | $260 |
| Macy's | $330 |
| Manly Bands | $275 |
| Triton | $309 |
| Zales | $195 |
As of May 15, 2022
Tungsten rings are growing in popularity because they are very modern, affordable, and offer more scratch resistance than more expensive metals such as gold or platinum.
The pros and cons of tungsten rings
Whether you're looking for a unique wedding band or a durable everyday ring, tungsten carbide might be the perfect choice for you.
Pros
What are the benefits of tungsten rings? There have been numerous benefits to using wedding bands using tungsten. List several reasons to buy a tungsten wedding band:
Tungsten is one of the hardest metals on the market, making it incredibly scratch resistant.
Tungsten rings are very affordable compared to other metals such as gold or platinum.
Tungsten rings have a modern look that is becoming increasingly popular.
Tungsten does not tarnish or corrode.
Tungsten rings are very affordable, especially when compared to gold or platinum.
Cons
What are the drawbacks of tungsten rings? While tungsten rings have many benefits, there are a few drawbacks that you should be aware of:
Tungsten rings can not be resized, so it is important to get your ring sized properly before ordering.
Tungsten rings can shatter if they are hit with enough force.
Tungsten rings can be difficult to remove in the event of an emergency.
Be sure to keep the pros and cons in mind when making your decision and take care of your ring properly to ensure it lasts for years to come.
Tungsten Ring Styles
With so many various diamond tungsten alternatives available, you'll discover that there are excellent choices at every price point.
Every sparkle in its own unique way, and selecting which one you love is a great place to begin.
Consider this your guide to types of tungsten rings online.
Styles:
Classic wedding band
Pave wedding band
Infinity wedding band
Eternity wedding band
Channel wedding band
Twisted wedding band
Patterns:
Patterns can turn a simple tungsten wedding band into a unique wedding band.
Some tungsten wedding band patterns to consider:
Art Deco
Brick
Camouflage
Line
Finishes:
Many brides and grooms are choosing wedding bands with textured finishes. A finish can really make your ring stand out and look unique.
Matte. Gives a flat look that isn't shiny or reflective.
Satin. Gives the ring a smooth and shiny look. However, it does not reflect light, making it less flashy.
Wire Brushed. The wire brush effect is achieved by creating a wire brush pattern on the surface. The textured look is created by cross-hatching the metal.
Sand Blast. The "rough" look — there's absolutely no shine or reflection.
Hammered. This finish varies depending on the type of hammered used, along with the direction and strength of impact.
High Polish. Gives the ring a reflective, shiny surface.
Widths:
Thicker wedding bands are a great choice for men with large hands because they make a bold statement and are more comfortable to wear.
A wider band may be more expensive (due to the use of extra metal).
Fit:
In general, your ring should slide over the knuckle (with smooth sides for comfort) without being too tight on the finger.
Structure:
There are two types of popular men's wedding bands:
Flat. A flat form on a men's wedding band is a ring with no curves and straight edges.
Dome. Sometimes called a D-shape, The domed structure on a wedding band gives the ring a rounded look on the surface and edges that some find more comfortable.
Inlays:
Adding gems makes your wedding band stand out. Consider an inlay setting to make precious stones more secure.
Some inlay options include meteorite, gold, dinosaur fossils, deer antler and wood (among others).
Plating/Replating:
You can plate your ring in gold, silver, and different colors. You need to take care of your plated wedding ring so that it lasts a long time between replating.
Interiors:
Some popular ring interiors include wood, rose gold, or white gold. High polish is another common option.
Did you know?
The best time to get an accurate ring size is near the end of the day. This is because your finger size changes throughout the day, depending on factors like the weather.
How to Care for a Tungsten Ring
Tungsten is resistant to corrosion, making it a very low-maintenance ring metal.
Tungsten is very easy to polish, you can clean your jewelry at home which will save you time and money. Use warm water and a gentle dish soap to clean it.
However, there are a few things you should avoid doing:
Avoid using harsh chemicals or abrasives when cleaning your tungsten ring.
Avoid expose your tungsten ring to extreme heat, as this can cause the ring to shatter.
If your tungsten ring becomes damaged, it is best to take it to a professional jeweler for repair.
Related: How To Polish a Tungsten Ring
Ahead, scroll through 5 popular tungsten wedding bands styles.
5 Tungsten Wedding Bands for Men
Perhaps a plain gold wedding ring just doesn't suit your style.
1. Blue Nile – Satin Finish Tungsten Ring (8mm)
Cost: $390
This tungsten wedding band has a minimalist esthetic that is perfect for any groom.
Related: Do Men Get Engagement Rings?
2. Manly Bands – Tungsten Wedding Band with Black Diamond Inlay (8mm)
Cost: $3,795
This black diamond wedding band in tungsten has a unique hammered appearance and is timeless.
3. Triton Men's Diamond Wedding Band in Tungsten
Cost: $899
Shine bright with this elegant diamond tungsten wedding ring with a brushed and polished finish.
4. Jared – Black Diamond Tungsten Wedding Band (8mm)
Cost: $999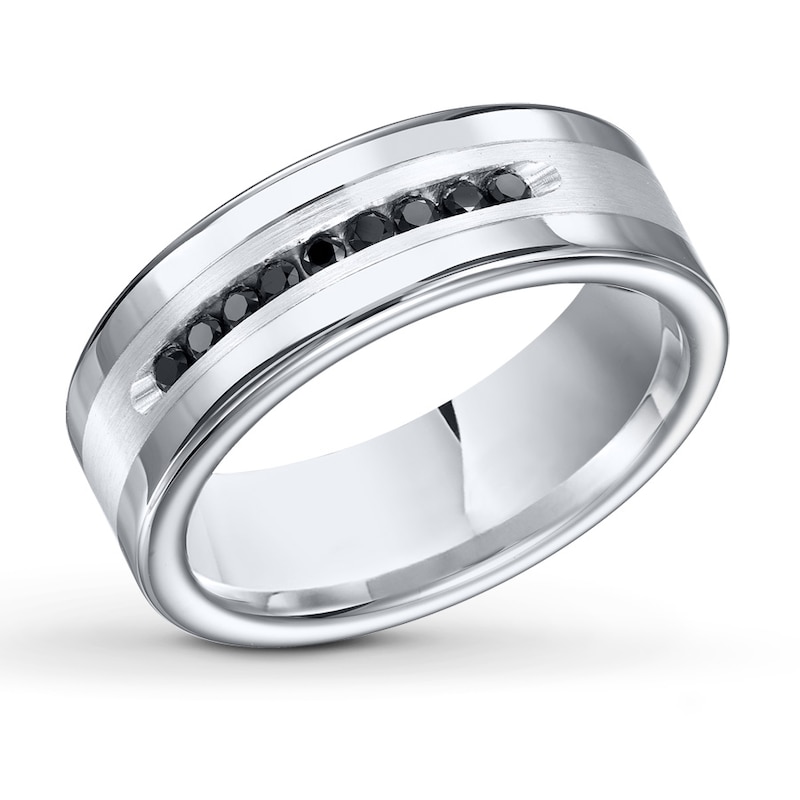 Black diamonds are forever. Styled in white tungsten carbide, the 8mm band is Supreme-Fit for wearing comfort.
5. Triton – Black & Blue Tungsten Wedding Band with Channel (8mm)
Cost: $325
This modern tungsten wedding ring features a blue inlay in black tungsten with a matte finish. Black and blue tungsten bands are sometimes worn by law enforcement officers or military.
Related: 55 Best Unique Men's Engagement Rings
Are Tungsten Rings Safe?
Are you considering a tungsten wedding band? You may be wondering if they are safe.
Here is some information on the safety of tungsten rings so that you can make an informed decision about whether or not they are right for you.
Ring Avulsion Injury
Similar to gold, titanium, platinum, wood, ceramic and other wedding ring materials — tungsten rings have ring avulsion concerns that you should be aware of before purchasing.
A ring avulsion is a type of injury that can occur when a ring is suddenly pulled with a strong force. This can happen due to workplace accidents, falls, or sports injuries. The resulting damage to the finger can be severe, and can lead to amputation.
The severity of the injury will determine the length of time it takes to recover. In some cases, rehabilitation may be necessary.
If you're worried about ring avulsion, it's important to choose a ring that is safe to wear like a silicone ring.
How to remove a tungsten ring in an emergency
Tungsten rings are removed with vice grips or locking pliers. This is a standard tool in most emergency rooms. Call ahead to find out whether your local hospital has a vice grip wrench to remove tungsten rings.
Close the vice grip, and adjust the jaw until it clamps down on the outside of the tungsten ring.
Release the vice grip, then turn the screw in the handle a half turn to tighten very slightly.
Next, try clamping down on the outside again. The vice grip is now slightly tighter and will apply more pressure. If needed, repeat tightening the vice grip in tiny increments. If the ring does not crack, keep carefully tightening the vice grip until the tungsten ring cracks.
*You may need to rotate a wider ring and repeat the process.
Wear safety glasses to avoid flying pieces when the ring cracks. You may also us a plastic bag to cover your hand to keep shards from shooting out across the room.
Tungsten rings with a metal inlay should be cut away prior to sliding the cracked ring up and down to remove it.
When should you go to the emergency room?
According to the Cleveland Clinic, you should go to the emergency room immediately if you have experienced a ring avulsion injury. If your finger was severed, bring it with you to the ER. Do not put it directly on ice.
How can the risk of ring avulsion injury be reduced?
Always be aware of your surroundings when working with tools or heavy equipment. It is important to stay safe, so take off your rings and other jewelry before you start working.
Make sure your rings fit tightly on your fingers. Rings that are loose can easily get caught on something.
Toxicity
Pure platinum, gold, silver, titanium, and tungsten have orders of toxicity and may even cause health issues such as lung problems.
Rings made out of jewelry grade metals are safe to wear unless you are allergic to metals or alloys such as nickel and cobalt.
Electrical Conductivity
Finding a metal that isn't conductive is impossible, all metals have some electrical conductivity. Tungsten, has low conductivity. However, you should always remove conductive jewelry when working with electrical currents.
Ring Rash
Raw tungsten metal is allergen free. However, jewelry grade tungsten rings made with cobalt or nickel are frequently triggers for allergies.
Occlusion Dermatitis
When you wear a ring for an extended length of time, soaps and lotions, as well as dead skin, can accumulate in the gaps of your ring or band, as well as on the metal's surface.
This can attract germs and cause irritation, ultimately causing a rash.
Tungsten Ring FAQs
What is special about tungsten rings?
Tungsten rings are scratch resistant rings. Tungsten is 4 times stronger harder than titanium. Tungsten is 8-9 on the Mohs hardness scale. Diamonds are 10, the highest value.
Why do people get tungsten rings?
The affordable Wedding Band is substantially cheaper than gold or platinum, and is hypoallergenic and stain and tarnish resistant. Tungsten is durable durability and will remain polished practically forever.
Is it easy to break tungsten ring?
Like any other diamond that cannot be scratched, it will crack or shatter. Similarly for tungsten rings. The material cannot be destroyed in a very strong way, like diamonds. These withstand normal use quite well.
What is the natural color of tungsten?
Raw tungsten metal is naturally gun metal gray in color.
The Bottom Line
It is not surprising that tungsten rings are a popular modern metal for wedding rings, given their durability and affordability. Are you looking for the perfect wedding ring to symbolize the strength of your love? If so, you may want to consider a tungsten ring.