Because some like it hot and some like it really, really hot.
I went on an exhaustive journey to list the spiciest instant noodles ever!
For all you heat seekers, these noodles are rated by their Scoville Heat Units (SHU).
*This site is reader supported and may contain affiliate links. Please see my disclosure to learn more.
The World's Spiciest Instant Noodles
Here are the 7 spiciest instant noodles ever!
Important!
These food products are extremely spicy and not intended for diners under the age of 18.
Those with high blood pressure, a sensitive stomach, or in poor health are advised not to consume these products.
If you don't feel well while eating these products, you are advised to immediately stop eating.
Please take care not to get any traces of sauce in your eyes. If you do, immediately rinse your eyes thoroughly with water and/or seek medical attention.
Women that are pregnant or breastfeeding should not consume these food products.
1. Culley's "The World's Hottest Ramen Noodles" (1,641,183 Scoville)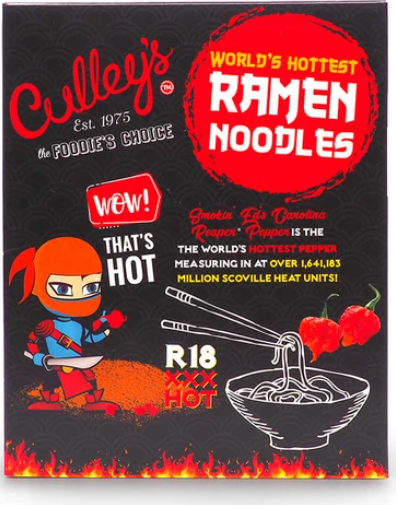 The World's Hottest Ramen Noodles are brought to you by our chilli-mad-mates from New Zealand; Culley's!
A fusion of Culley's signature flavor-full taste with the world's hottest Carolina reaper as a ramen soup – just breathe it in and it'll make your eyes water!
This product was discontinued.
2. Isoyama Shoji Instant Ramen (over 1 million Scoville)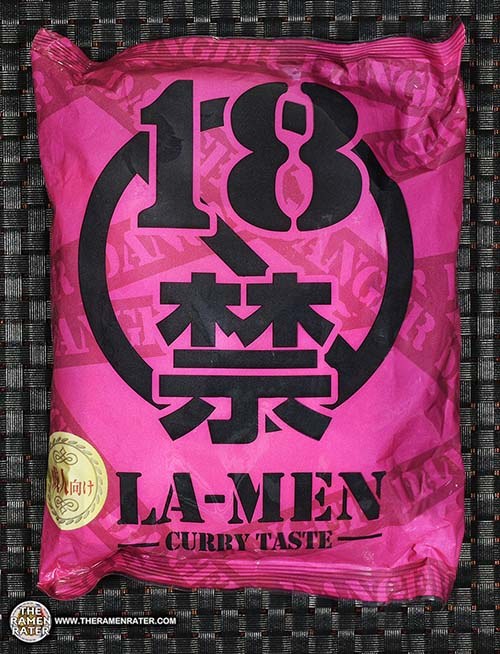 The ultra spicy Isoyama Shoji Instant Ramen is prohibited in Japan.
RELATED: Popular Japanese Foods: The 40+ Most Popular Foods in Japan
They're made with bhut jolokia (ghost peppers) — which are 400 times spicier than Tabasco, clocking in at more than 1 million Scoville heat units (SHUs). In other words, this is some seriously spicy stuff!
It's curry flavored and seriously spicy!
This product was also discontinued.
3. MAMEE's Daebak Ghost Pepper Spicy Chicken Noodles (1 million Scoville) 
What are the spiciest instant noodles in the world?
The spiciest noodles in the world clock in at 1,000,000 Scoville Heat Units (SHU). MAMEE's Daebak Ghost Pepper Spicy Chicken Noodles are the planet's hottest instant noodles. Malaysia's nuclear noodles even have a Scoville Heat Unit scale printed on the cup to warn others of the spice level.
Related: The 30+ Spiciest Foods In The World and 37 Unique Spicy Snacks 
4. Samyang 3X Spicy Buldak Ramen (13,200 Scoville)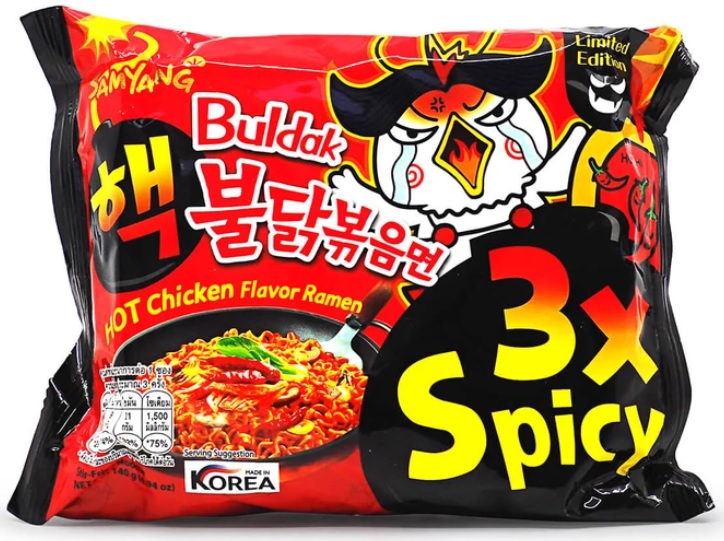 Samyang has created their hottest spiciest ramen ever with this limited edition 3x spicy Chicken Ramen Noodles.
What makes Samyang noodles so spicy?
Samyang spicy noodles come with a dried seasoning packet, and a sauce packet.
The dark red liquid stir-fry sauce contains all the "nuclear" flavors that spice up the noodles.
5. Samyang 2X Spicy Hot Chicken Flavor Ramen (10,000 Scoville)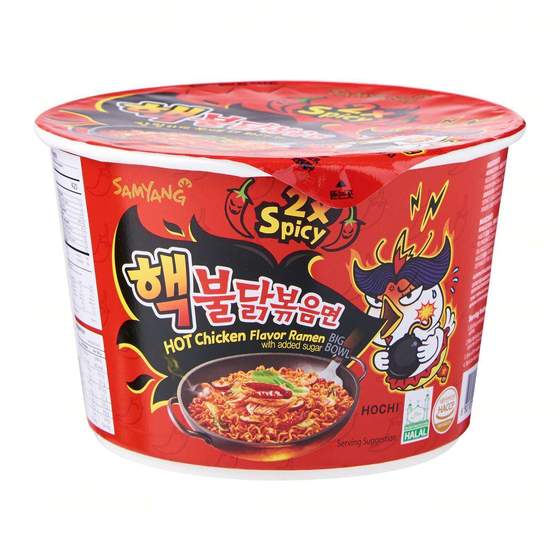 This ramen was made YouTube famous for its extremely challenging level of spiciness.
The renewed Haek Buldak Spicy Chicken Ramen, also known as 2X Fire Noodle clocks in at 10,000 Scoville heat units — making it one of the spiciest ramen in the world.
The original Samyang 2x Spicy Noodles' Scoville Heat Unit (SHU) was at 8,808.
The burning sensation lingers the next day.
6. Mukbang Bulmawang Ramen (14,444 Scoville)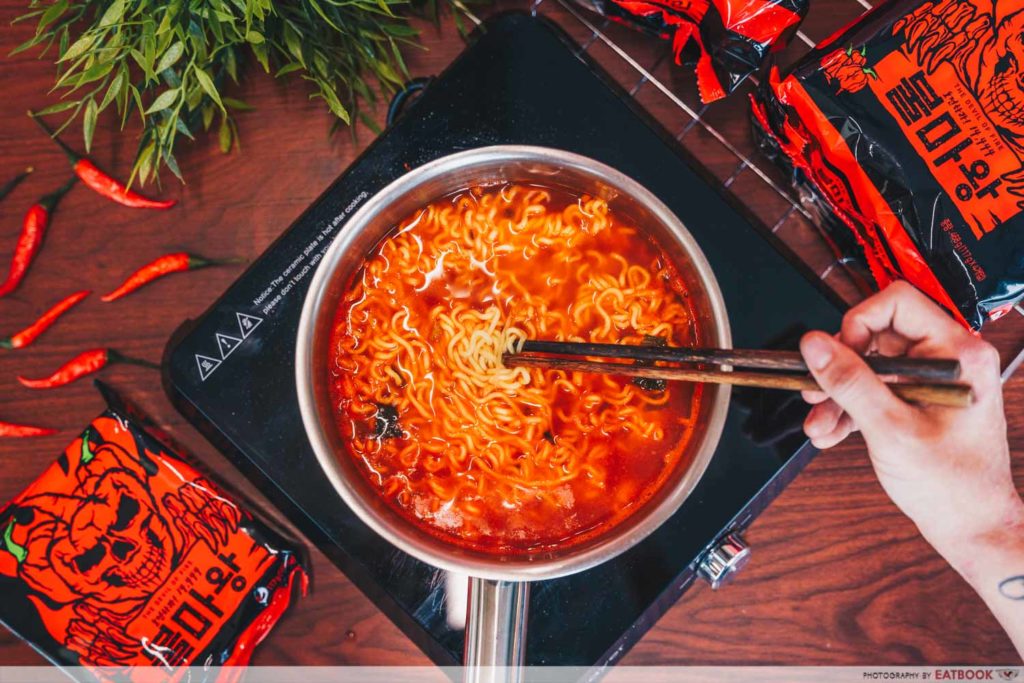 Warning: not for the faint of heart, even for seasoned heat seekers. Start with a quarter of the powder packet, taste it, and add more as needed.
It claims to be the spiciest ramen on earth.
The noodles are excellent quality, chewy without feeling over cooked or thin like Top Ramen.
Excellent with a soft boiled egg, or egg scrambled in the broth.
7. Paldo Teumsae Ramyeon (9,413 Scoville)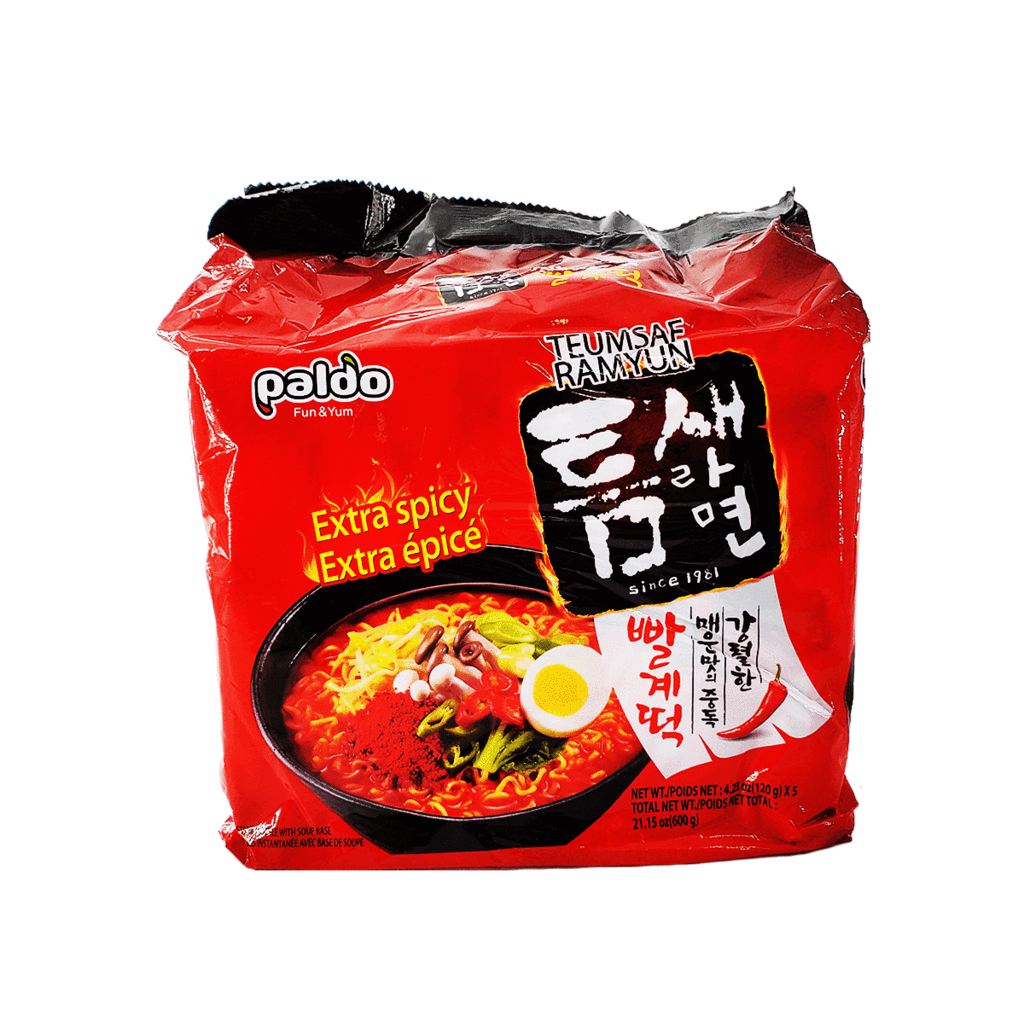 This is the perfect red peppery bowl of instant noodles packing that traditional South Korean spice.
Addictive Teumsae Ramyeon instant noodles come in at 9,413 SHU. These noodles will make you sweat.
These noodles will challenge even the staunchest of spicy fans.
Spicy Instant Noodles FAQ
How hot are Carolina reaper peppers in Scoville heat units?
The Carolina Reaper is currently the hottest pepper in the world, measuring over 2 Million Scoville Heat Units. It was first found in the state of South Carolina and that is how it got its name.
How hot are ghost peppers in Scoville heat units?
Ghost peppers range in heat from 855,000 – 1,041,427 Scoville Heat Units (SHU). The hottest Carolina Reaper is more than twice as hot.
If you found this post on the spiciest instant noodles in the world helpful, please share it with your friends and followers!
:: saves for later ::