If your beans turned out too salty, don't worry.
With these quick & easy tricks, you can reduce the sodium levels in your beans.
What do I do if my beans are too salty?
How to Fix Salty Beans
Say goodbye to salty beans!
Related: Mexican Foods That Start With W
1. Double the Recipe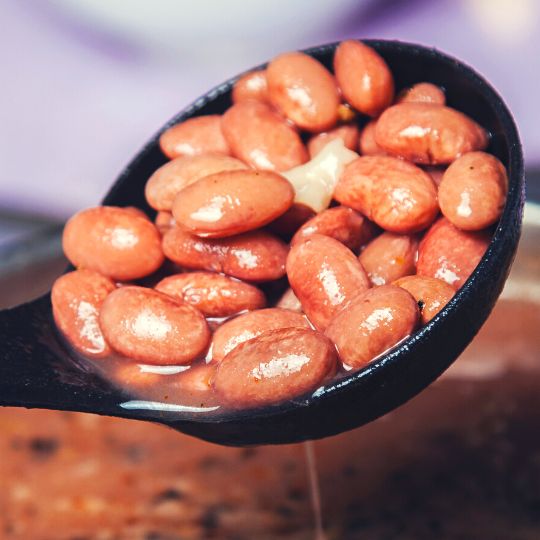 Add half the amount of cooked beans (without adding salt) to the salty batch of beans. If the beans are very salty, double the original amount of. If you don't have more beans, stir in a little fresh mozzarella, cornstarch, potato flakes, or cooked pasta until well mixed. You may have extra beans but nothing will go to waste.
Related: How to Fix Salty Rice
2. Add Vegetables
To fix salty beans fast, throw in some cooked greens like finely chopped kale or spinach.
Onions, tomatoes, bell peppers, peas, carrots, and other veggies work great too.
Veggies will neutralize the saltiness. This is also a great hack for adding more veggies to your diet.
Avocado slices (as a garnish) although not technically a vegetable, will also do the trick.
Vegetables add moisture to your pot of beans, so try sauteing your vegetables before combining them with your beans.
Here are some other veggies that you can add to salty beans to help mitigate some of the salinity.
Raw Broccoli
Raw broccoli soaks up salty flavor as it cooks.
Use raw broccoli (not frozen) and only the florets.
Chop the broccoli very finely.
The broccoli cooks down — after about an hour — and shrinks to the point you can hardly see it anymore.
Don't knock it 'til you've tried it!
Mushrooms
You can also add fresh mushrooms to your bean. You can use canned or frozen mushrooms.
Stir fry finely chopped mushrooms before adding to the beans
Or add them directly to the beans and hour before they are done
Tomato paste
Adding an acidic ingredient — like tomato or tomato paste — will further absorb quite a bit of the salty flavor.
Mix the tomato paste just before serving, in the final 15 minutes of your cooking.
Add the tomato paste, a little at a time, stirring and checking the taste.
Related: Salty Kimchi? 5 Ways to Fix Overly Salted Kimchi
3. Add Sour Cream or Mozzarella Cheese
Dairy can also counteract over salted food.
Choose sour cream or a low-sodium cheese like fresh mozzarella, Swiss, goat, or ricotta.
4. Add Water or Stock
The easiest way to fix salty beans is to dilute the saltiness by adding more liquid.
Add some unsalted chicken or vegetable stock slowly, and then simmer. This reduces the concentration of salt in the beans.
Or add milk, cream or water
Add a little milk or cream. Adding milk or cream gives richness and flavor to the beans.
And while water may dilute the flavor of the beans, you can always add seasoning to taste.
5. Add a Dash of Sugar or Splash of Lemon
Sweet and salty are a classic pairing. Simply add a bit of sugar, maple syrup, or honey to your pot of beans and stir thoroughly over a very low heat.
Or your can also try adding a splash of lemon/lime juice to trick your taste buds. This is my favorite method of reducing saltiness in food.
Adding something sour like lemons, limes, or apple cider vinegar balances out the salty flavor of salty foods.
Try can also try adding wine or balsamic vinegar. Make sure to add a little bit at a time, and taste as you go.
6. Serve with Unsalted Starches
When ready to serve, simply add some unsalted starches like cracker, croutons, bread, or chips.
Unsalted Crackers. Crumble a crackers and stir them into your individual serving of beans. Start with 3 or 4 crackers, adding more to bring the beans to your desired flavor.
Cornbread. Add crumbled cornbread or corn muffin to your beans serving and mix well.
Unsalted Tortilla Chips. Try crushed corn chips. Add a layer of crushed corn chips into your bowl before ladling the beans in. Stir to combine.
Bread. Serve sliced bread with your plate of beans to soak up some of the salty taste.
7. Make Rice and Beans
Make a fresh pot of rice and when fully cooked, mix in the salty beans. Add chopped cilantro to further cut some of the salty flavor.
If your beans are very salty, only use a portion with the rice. And freeze the rest for salting your next batch of rice, or soup.
You can also combine the beans with cooked macaroni or small sea shell pasta.
Related: 100 Popular Mexican Foods
8. Add Corn Starch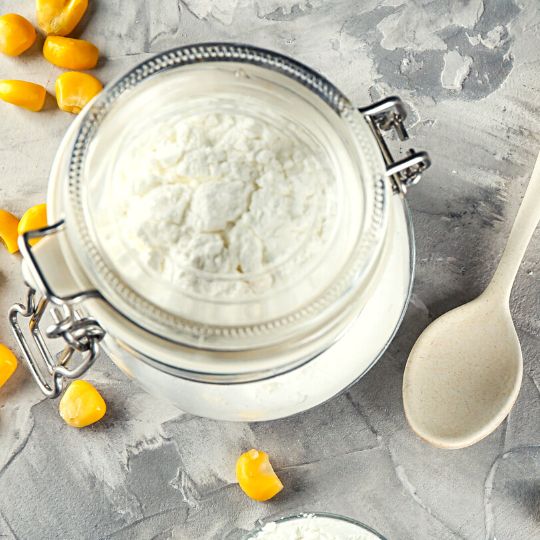 If your beans are too salty you can save them by adding corn starch.
Sooo easy!
Mix 1 tablespoon of corn starch and 1 tablespoon of water to create a slurry.
Add the mixture to the beans and combine thoroughly.
Bring your beans up to a boil and let them cook for 10 more minutes.
If the beans are very salty, add more slurry until you reach the desired taste.
Important! Do not add dry cornstarch or corn flour directly to the pot as this will cause clumping.
You can also substitute corn flour, cornmeal, polenta, or masa harina for corn starch. Note that corn ingredients may dilute the beans' flavor if you add too much.
Tip: Do not use coarse-grind cornmeal, it won't dissolve properly.
9. Add A Roux
If you let your roux get really browned, it gives your beans a toasty flavor.
Here's how to make a browned roux:
Melt 1 tablespoon of unsalted butter in a skillet.
Add 1 tablespoon of flour. Stir while cooking until fully incorporated and the roux is browned.
Stir the cooled roux into your beans. Bring to a simmer (uncovered) and cook for at least 10 minutes.
Adjust seasonings as needed.
Tip: You can also make a roux using corn starch. You can experiment with rice, almond, or coconut flour as well.
What is a roux?
A roux (pronounced "roo") is also French and describes a paste created with equal parts flour and fat (melted butter, oil, or lard).
10. Add Potato Starch
In case you were wondering — yes, you can make a potato starch roux. Browned potato roux is delicious!
Here's how:
Melt 1 tablespoon of unsalted butter in a skillet.
Add 1 tablespoon of potato starch. Stir while cooking until fully incorporated and the roux is browned.
Stir the cooled roux into your beans. Bring to a simmer (uncovered) and cook for about 10 minutes.
Adjust seasonings as needed.
Or add a tablespoon of instant potato flakes to hot beans. Stir thoroughly. Let cook for a minute. The potatoes will absorb some of the salty flavor.
Potato flakes lighten the color slightly. You can also use cooked, cubed potatoes if you have them on hand.
You get similar results with a rice flour roux. No surprise there, browned rice always tastes good.
Related: Undercooked Hard Boiled Eggs? How To Fix Runny Eggs (Peeled & Unpeeled)
Easy Bean Recipe
YIELDS: 4 Servings | COOK TIME: 45 minutes
Ingredients
2 tbsp. extra-virgin olive oil
1 medium red onion, finely chopped
2 cloves garlic, minced
1 tbsp. minced jalapeños
1 tbsp. tomato paste
kosher salt
Freshly ground black pepper
1 tsp. chili powder
1/2 tsp. cumin
3 (15-oz.) cans beans, with liquid
1 qt. low-sodium chicken or vegetable stock
1 bay leaf
sour cream, for garnish
Sliced avocado, for garnish
Chopped fresh cilantro, for garnish
Instructions
In a large pot over medium heat, heat oil. Add onion and cook until soft and translucent, about 5 minutes. Add jalapeños and garlic and cook until fragrant, about 2 minutes. Add tomato paste, stir to coat vegetables, and cook about a minute more. Season with salt, pepper, chili powder, and cumin and stir to coat.
Add beans with their liquid and chicken broth. Stir, add bay leaf and bring to a boil. Immediately reduce to a simmer and let simmer until slightly reduced, about 15 minutes. Remove bay leaf.
Serve with sliced avocado and cilantro.
Did you know?
Beans are one of the longest-cultivated plants. Broad beans, also called fava beans, were gathered in Afghanistan and the Himalayan foothills. In a form improved from naturally occurring types, they were grown in Thailand from the early seventh millennium BCE, predating ceramics. –Wikipedia
Beans FAQs
What ingredients further reduce salty flavor in beans?
Uncooked Noodles
Most pasta cooks in 8 to 12 minutes.
The following are great choices of pasta for beans.
Elbow macaroni
Small shells
Curly spirals (fusilli and rotini)
Penne
Ziti
Quinoa
The newest use for quinoa is probably the best.
Red quinoa blends into the beans. Just add a 1/4 cup an hour before beans are done.
Quinoa adds extra bulk and makes beans more hearty and less salty tasting.
Important! Quinoa is a "high risk" gluten-free grain for people with celiac disease. It is often grown and harvested with wheat, barley and rye.
How do you thin beans that are too thick?
Add about 1/4 cup of beef/chicken broth or tomato juice for each 1 cup of beans. A little at a time.
Stir the beans to evenly distribute the new liquid.
Cover the pot with a lid to avoid evaporation.
Reseason if desired.
Keep adding liquid a quarter cup at a time until it reaches the right consistency.
How do you fix salty beans gluten free?
How to Fix SaltyBeans with Gluten-Free Ingredients, Just Add:
Cooking collagen powder
Arrow root powder or kuzu root starch (Japanese arrow root)
Any corn based thickener like cornstarch, masa harina, tortilla chips, polenta…
Finely chopped raw broccoli or raw mushrooms
Gluten-free dry noodles while beans is cooking
Precooked onion, corn, okra, drained tomatoes
Low-sodium cheese like mozzarella or goat cheese
Tomato paste
Share This Article
If you found this post on how to fix salty beans helpful, please share it!
:: saves for later ::