Japanese Konbinis are unlike any convenience stores you've experienced in America.
From the latest snacks and technology to daily essentials, Konbini is much more than just a convenience store.
In this guide, you will learn everything you need to know about this iconic Japanese institution, including its history, offerings, and why it has become an essential part of daily life for millions of people.
What is a konbini?
The word "konbini" is the abbreviated word for konbiniensu sutoru, (convenience store). Konbinis are a one-stop shop on every street corner in Japan. 24/7 konbinis are also where locals & travelers grab quick, affordable meals.
Konbini Foods
You'll find an amazing variety of foods like onigiri, sandwiches, instant noodles, cold drinks, baked goods, fruits, vegetables, ice cream, and more.
Here are the top types of konbini food you will find in Japan.
Keep in mind, some of these offerings vary by store, chain, region, and season.
Related: 10 Best Japanese Instant Noodles
1. Onigiri
A quintessential Japanese snack — the onigiri rice ball is the best, on-the-go food in Japan.
Popular varieties of onigiri
Salmon
Mentaiko
Umeboshi
Kombu
Tarako
Tuna mayo
Sujiko
2. Sandoichi (Sandwiches)
Need a quick bite to eat? Grab a tasty konbini sandwich.
These perfectly wrapped triangles are made using exceptionally pillowy bread.
The egg salad (tomago) sandwich has practically taken the world by storm.
3. Bento Sets
A bento box is a single-portion meal, often served in a compartmentalized box or tray.
A traditional bento may contain rice or noodles with fish or meat, often with pickled and cooked vegetables.
The bento has been used for centuries in Japan — kids take their bento boxes to school; employees take their bento boxes to work.
Many Japanese restaurants in the United States have bento boxes on their menus.
4. Instant Noodles
Many ramen establishments have been teaming up with convenience stores such as 7-Eleven to sell instant versions of their top-selling noodles.
There are plenty of different flavors to try!
You can't go wrong with instant noodles. They also make tasty souvenirs to take home from Japan.
Konbini's also conveniently offer hot water and microwaves to heat up your instant noodles.
Related: 7 Spiciest Instant Ramen Noodles In The World (2023)
5. Okashi, Dagashi & Wagashi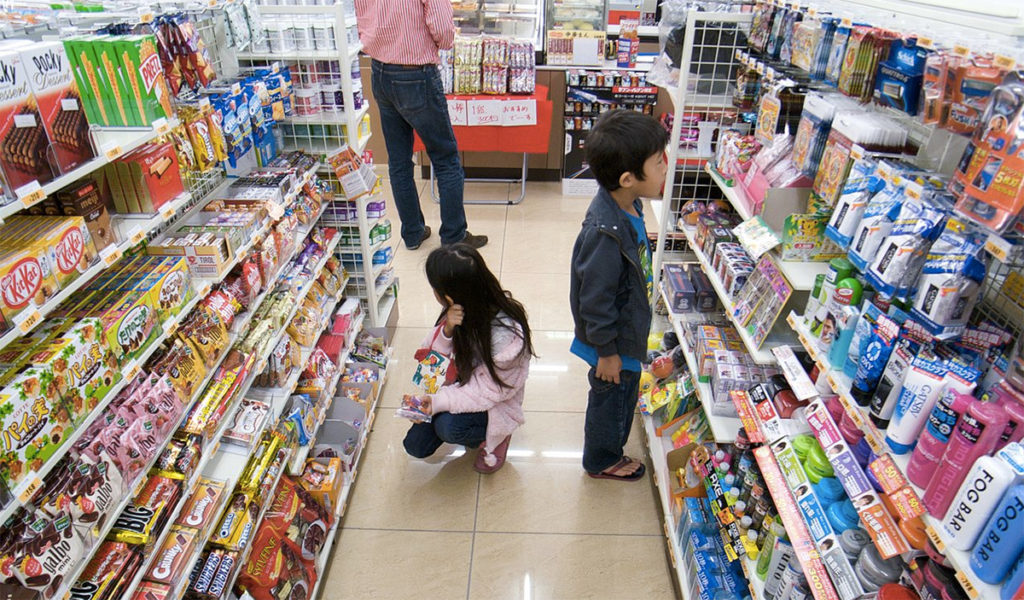 Okashi
Okashi is the Japanese word for confectionery (sweet) snacks.
Some of the most popular okashi are: Pocky, Kit Kat, Royce chocolate potato chips, Tokyo banana, etc.
Dagashi and wagashi are types of okashi.
Dagashi
Dagashi are comparable to American penny candy.
The word dagashi is derived from the Japanese words da ("futile" or "negligible") and kashi (snacks).
Wagashi
Wagashi are traditional Japanese confections that are often served with green tea, especially the types made of mochi, anko, and fruit.
Wagashi are typically made from plant-based ingredients.
The term wagashi is derived from the words wa (Japanese) and Kashi (snacks).
What is a confection?
A confection is a food made with sugar and carbs. Bakers' confections include sweet pastries, cakes, baked goods, and breads.
6. Oden
A classic winter comfort dish in Japan, Oden is a one-pot dish with an assortment of fish balls, fish cakes, deep-fried tofu, hard-boiled eggs, daikon, konjac, & a light, soy-flavored dashi broth.
Hot oden is real "soul food" for the Japanese in the winter months.
7. Tsumetai Nomimono (Cold Drinks)
You will find an amazing variety of drinks, and beverages at your local konbini. Including alcoholic beverages like beer, wine, sake and more.
American drinks like Coca-Cola and Sprite are also commonly in stock.
8. Atatakai Nomimono (Hot Drinks)
Konbinis offer a variety of affordable teas and coffees will make sure that you stay happy and warm.
In every konbini you'll find a warming case filled with coffee and tea and a self-serve coffee bar.
Matcha latte, espresso, milk tea, black tea and a winter special cocoa latte are some of the drinks available piping hot from the coffee machine.
9. Sushi
Konbini convenience store chains have started to sell packages of chilled sushi.
You can find a variety on the refrigerated shelves.
Sushi is cold, cooked rice dressed with vinegar that is shaped into pieces and topped with raw or cooked fish, or formed into a roll with fish, egg, or vegetables and often wrapped in seaweed.
10. Aisukurīmu (Ice Cream)
Every konbini stocks a wide variety of ice cream – from ice cream cones, popsicles, ice bars, ice cream sandwiches, single-serving cups, and more.
You'll enjoy a wide choice of pre-packaged frozen ice creams.
11. Baked Goods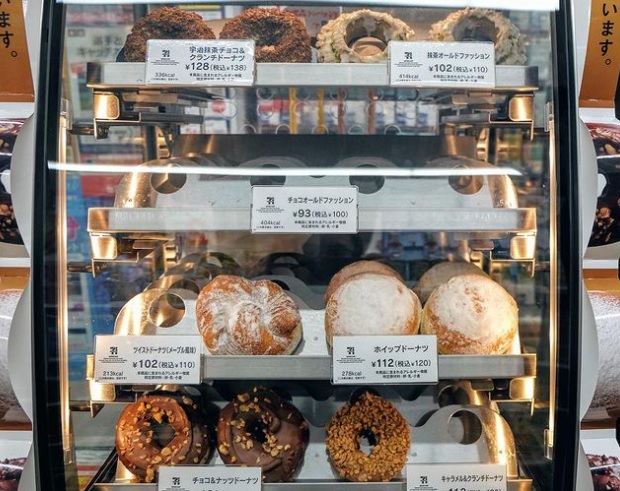 Grab a fresh pastry from behind the counter, or go to the bread and cake aisle for plastic-wrapped goodies like melon pan or dorayaki (a pancake sandwich filled with sweet red bean paste).
12. Fruits, Vegetables & Salads
If baked goods aren't your thing, head to the cooler section where you'll find fresh fruits, vegetables, & salads.
Best Konbini Stores in Japan
7-Eleven is the largest konbini chain — there are nearly 20,000 locations in Japan — and generally has the best food overall.
Its products regularly top konbini food rankings.
You'll see the other big players — Lawson and Family Mart.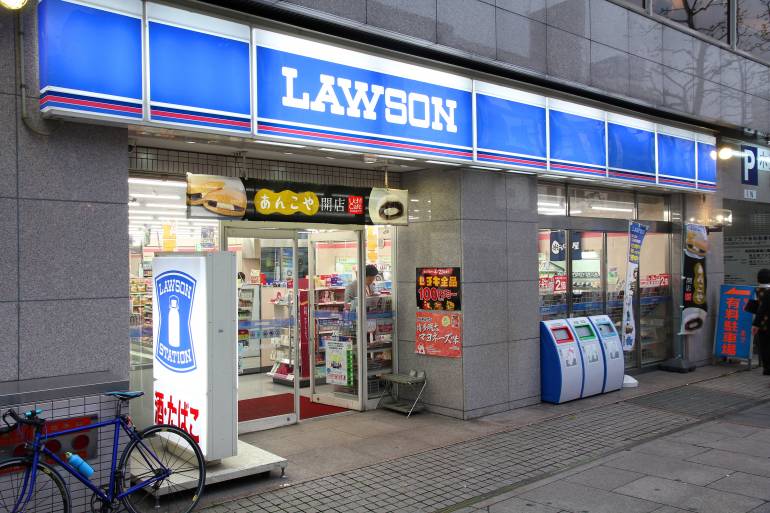 Smaller chains include Circle K Sunkus, Ministop and Daily Yamazaki which can be found both in residential parts of the city and in train stations.
You May Also Like: 5 Best Gold IRA Companies Of 2024
Konbini FAQs
What are the top 10 products sold at convenience stores in Japan?
Onigiri
Egg Sandwich
Yakisoba Bun
Bento Sets
Instant Ippudo Ramen
Fried Karaage
Coffee Cream Treat
Mochifuwa Pancake
Black Gateau Chocolat
Hot Drinks
Source: klook.com
Is konbini (Japanese convenience store) food healthy?
Konbini food is hygienic. Strict health and safety standards at any food processing facility ensure that your pre-packaged konbini food is free of contaminants and harmful bacteria.
How much is konbini (convenience store) food in Japan?
You can expect to pay around 400 to 600 ($3.50 – $5.25) yen in total for a convenience store meal.
What do Japanese people call Seven Eleven?
Sebun irebun (seven eleven)
What is Lawson Japan?
Lawson is a convenience store franchise chain in Japan. The store originated in Ohio, but exists today as a Japanese company.
What is FamilyMart Japan?
FamilyMart (Famirīmāto) is Japan's second largest convenience store chain after 7-Eleven. There are now 24,574 stores worldwide in Japan, Taiwan, China, Philippines, Thailand, Vietnam, Indonesia, and Malaysia.
What other products and services do konbini offer?
You'll find more than just food at a konbini such as magazines, copying/printing services, ATMs, and necessities such as underwear.
Konbini's will even hold your packages for you until you can pick them up. Talk about convenient!
And the ATMs almost always take foreign cards, unlike in Japanese banks.
Which konbini have the most extra services?
The farther you get out Tokyo, the more konbini stores evolve into true one-stop shops.
In downtown Tokyo (where space is limited) stores may not have bathrooms, seating areas, or print and copy machines.
Do konbini's offer free wi-fi?
You can hop on the free Wi-Fi at konbinis. You'll need to register when connecting for the first time.
What is konbini payment?
Konbini payment is the 2nd most popular online payment method in Japan, making up 10% of purchases. People pay their phone bills, online orders, games, movie tickets, and so more in the 55,000 convenience stores in Japan.
Do konbini's have free parking?
Don't worry about the amount of time you spend inside a konbini — parking is free.
However, in major cities like Tokyo, Yokohama, and Osaka, free konbini parking is hard to find.
Share This Post
If you found this post on konbinis helpful, please share it with your friends and followers!