Today, I have ranked the most epic Japanese instant noodles of all time!
Instant happiness.
Of course, the task of selecting the best Japanese instant noodles requires some ground rules, or there'd be edible anarchy. For specificity, the noodles are focused on brands.
For accessibility, these Japanese instant noodles are reasonably available at most American corner stores, mini-marts, and online.
Got it? Then start slurping on this tasty list of the finest Japanese instant noodles ever!
Best Japanese Instant Noodles
1. Nissin Cup Noodles
Nissin Foods is one of the most well known Japanese instant noodles.
The company was founded in 1958 and is now one of the leading producers of instant noodles worldwide.
If you're as obsessed with Japanese curry, the curry flavor of these Nissin Cup Noodles is so inviting and warm; it's not spicy, but extremely aromatic and will definitely satisfy your curry craving.
Single servings are packaged in foam, plastic, or paper cups and are prepared by adding boiling water.
Their biggest sales point is just how quick and easy they are to prepare. Just add hot water and go.
[RELATED: Top 40 Traditional Japanese Foods]
2. Nongshim Shin Instant Ramen Noodles
These are the best-selling instant noodles in Japan.
These instant noodles are spicy—enough to make your nose run a bit—and deeply savory in each bite.
There are dehydrated slices of carrots, mushrooms, green onions, and chili flakes in each pack that blossom in hot water while the noodles are bouncy and chewy.
The noodles are thin and soft and have a distinctive flavor that comes from the kansui (a type of alkaline mineral water).
The flavor comes from the broth which usually consists of beef or pork bone, dried anchovies and vegetables like green onions and garlic.
Fun Fact: The best-selling instant noodles in Japan (from Nongshim Shin) are actually a Korean import.
3. Maruchan Akai Kitsune Instant Udon
Maruchan Akai Kitsune is the instant Udon bowl with the largest market share in Japan.
Kitsune is a quintessential Udon dish whose main topping is deep-fried tofu.
Maruchan's instant Udon bowl is characterized by the big and juicy Aburaage that soaks up the flavor of the broth very well.
The soup is light soy sauce-based but packed with plenty of umami.
4. Acecook Wakame Ramen Instant Noodle Soup with Seaweed
Are you a seaweed fan? Savory and bold, Wakame Seaweed flavored ramen is a Japanese inspired classic.
With noodles kneaded from the paste extracted from the seaweed into the dough; you'll enjoy the this chewy instant noodle sensation.
Fun Fact: The noodles are baked, not fried. And the broth contains no added MSG or preservatives.
It's refreshingly light in flavor with a good combination of sesame oil and soy sauce. It also contains a healthy portion of wakame seaweed.
It has a good balance of taste between soy sauce and sesame oil, and it contains a generous amount of wakame seaweed, which is super healthy.
5. Maruchan Gold – Soy Sauce Instant Ramen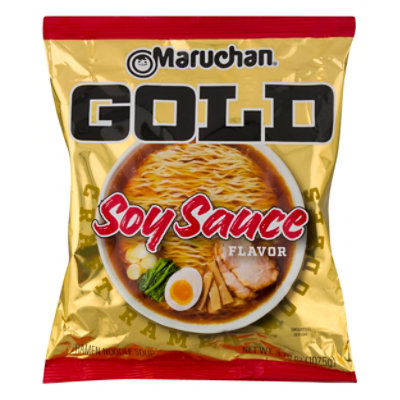 Maruchan Gold's soy sauce-flavored instant ramen—reminiscent of the ramen stalls in Tokyo where one can get a cozy bowl of ramen with the push of a button and a handful of yen.
The broth is light but delivered a savory richness and a bit of depth that was pretty tasty.
Overall, Maruchan Gold Soy Sauce instant ramen is an impressive bowl of ramen. And better than some ramen shops.
The soy sauce is salty without being abrasively so, and the flavors of garlic, ginger, and bonito shine through.
Plus, for being dehydrated and instant, the noodles are curly and spring back between each bite.
6. Sapporo Ichiban Shio Ramen
One of the most popular instant ramen noodles in Japan. And probably one of the best brands of instant ramen out there.
These soft and chewy instant Japanese noodles have a quality broth with an authentic shio flavor.
I would recommend this Sapporo Ichiban shio flavor to anyone who likes the taste of authentic, rich shio ramen flavor.
It has a more natural chicken taste than other typical grocery store ramen. If you are sensitive to salt, add 2/3 of the seasoning.
7. Myojo Ippei-Chan Yakisoba Noodles with Spicy Mustard Mayonnaise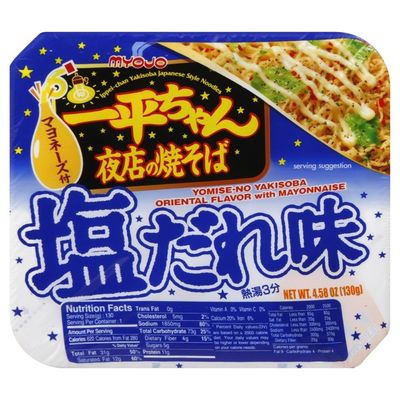 This yakisoba, or instant Japanese stir fried noodles, comes together in under five minutes but its gloriously rich and savory.
Japanese yakisoba fried noodles with their savoury yakisoba sauce, slices of pork, and diced cabbage all fried up on a big iron grill are a classic Japanese street food. 
The wheat flour noodles are sticky while the sauce, paired with a packet of creamy mayonnaise, coats each strand perfectly.
Spruce it up with slivers of bacon, cabbage, and pickled ginger if you want a fuller meal. 
It's usually topped off with some diced pickles and drizzled with Kewpie mayonnaise to finish it off. 
This particular variety uses a spicy mayonnaise to give it a little extra kick.
8. Go Hōbi Raō Kurozu No Sanrātan Men
A high end Japanese Instant Noodle. The rich soup achieves a level of umami by combining a chicken broth matched with the rich flavor of black vinegar. 
Throw and egg and some some shredded cheese on top for extra protein.
This one also wins for classy package design that definitely gives you the sense you are eating something beyond the normal instant noodle grade.
9. Mukashinagara No Miso Rāmen
This one is popular in Japan, partly due to the non-fried noodles made from Hokkaido wheat. The noodles are strong and chewy.
The rich miso soup comes into it's own with toppings of eggs and vegetables. You might also want to add some greens (like spinach).
10. Isoyama Shoji Instant Ramen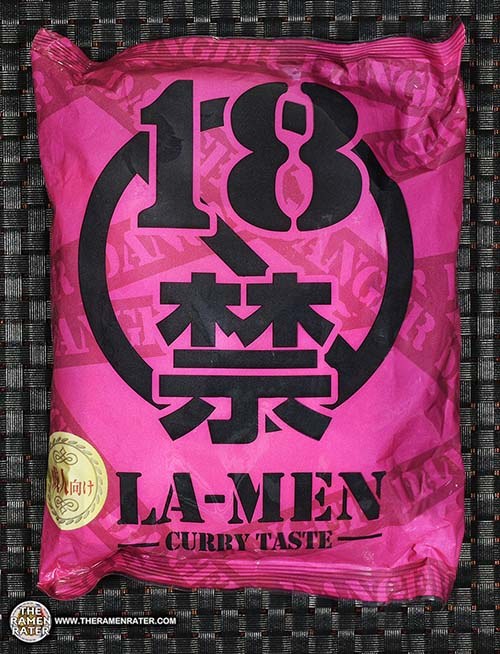 One of the spiciest Japanese instant noodles you'll ever eat.
The ultra spicy Isoyama Shoji 18 Prohibited instant ramen from Japan.
It's curry flavored and seriously spicy! [RELATED: 20 Spiciest Snacks Ever]
11. Acecook Super Cup 1.5 Times Tonkotsu Ramen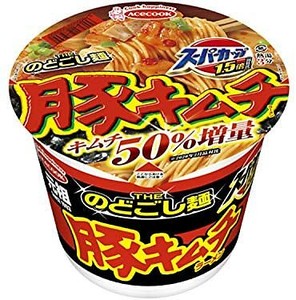 Tonkotsu ramen is a pork broth instant noodle soup that is a flavorful, creamy, and smooth soup that continuously dominates the Japanese market.
Some consider Tonkotsu is the holy grail of ramen soups.
The "1.5 times" name of the product is based on the 1.5 times more increase in capacity of their cup which is originally from 60g to 90g.
The Tonkotsu is Acecook's most popular flavor of instant noodles.
12. Menma Kyoto (Yamadai)
One of the best cup of ramen instant noodles in Japan, according to Japanese people!
Yamadai, a company from Kyoto has its own chain of restaurants in Kyoto.
The restaurant wanted people to experience the taste of the ramen they serve in their restaurant chain; that's why they created Menma Kyoto which is famous for its rich soy sauce made from actual pork bones.
It doesn't contain a lot of MSGs like other cup noodles out there and relies on cayenne powder for that extra flavor. Every sip and bite will surely remind people of the Yamadai's restaurant ramen.
13. Inosho Spicy Fish Ramen MAX Version II
The Karagara-gyo-ramen karagara max is a limited edition release of the popular instant noodles.
Karagara-gyo-ramen karagara max 2 is modeled after the original, but with new flavors.
These instant noodles come in three different varieties: curry, chili, and tomato.
14. [OTTOGI] Sesame Flavor Ramen
Otto's Sesame flavor ramen is a Korean-style instant noodle.
The noodles are thick and come in two different shapes: curly and straight.
Other ingredients include soy sauce, salt, garlic powder, and onion powder.
Ottagi's cheesy ramen flavor is also a must try!
15. Nissin Sumire Sapporo Noko Miso
This instant ramen is based on the recipe by Sumire, a famous ramen restaurant in Sapporo.
The miso broth is fragrant and tasty. The miso is grilled once to enhance its flavor.
It also has some sansho, a type of citrusy and spicy Japanese condiment.
Sumire's ramen restaurant is known as one of the best in Hokkaido
16. Midori No Tanuki Tensoba
These instant soba noodles from Maruchan are made of buckwheat
Tensoba means tempura soba. The main garnish of this instant soba is a large piece of shrimp tempura. 
The buckwheat noodles are curly with the slightly sweet soy sauce-based broth packed with the umami from Katsuobushi bonito flakes.
The addition of the Shichimi Togarashi spice makes the Soba noodle a hit.
Japanese Instant Noodle FAQs
When were instant noodles invented?
Instant noodles rose to fame about 60 years ago in Japan after the 2nd World War to feed the starving Japanese population. Instant noodles were launched by Momofuku Ando under the label name 'Chickin Ramen.' Over the years, instant noodles became a worldwide favorite comfort meal.
What are the main types of Japanese ramen soup?
The three dominent flavors of Japanese ramen noodle soup include: Tonkotsu, Shoyu and Miso. All these variations offer unique tastes and textures.
Tonkotsu Ramen – Tonkotsu literally means "pork bone". Tonkotsu broth is typically made by boiling pork bones for many hours. It tends to be a milkier, thicker broth than shoyu ramen.
Shoyu – Shoyu just means "soy sauce" so shoyu ramen is a soy based broth. It tends to be a lot "lighter", less thick and saltier than tonkotsu.
Miso – This type of ramen broth is based on the same miso paste that is well known for its use in miso soup. Miso paste is made from the same soy (daizu in Japanese) bean as that which makes soy sauce.
Why are Japanese instant noodles so popular?
Japanese instant noodles are very popular generally because it's easy to eat and can be eaten anywhere. Just add hot water or microwave. All the seasoning coms in packets in the cup/box. Japanese instant ramen are also popular due to the number of options to choose from.
:: saves for later ::
If you found this listicle of the best Japanese instant noodles helpful, please share it with your friends and followers!