Want to learn how to become a food blogger on Instagram and get paid?
In this article I will tell you the top 10 ways to money on Instagram. You'll also discover how to get free, real followers, and become an Instagram influencer.
Let's get started!
How do food bloggers make money on Instagram?
The most popular monetization methods for Instagram food bloggers are:
Sponsored Posts & Brand Partnerships
Live Badges
Instagram Subscriptions
Story Highlights
Instagram Shop
Drop Shipping
Sell Advertising Space
Offer a Masterclass or Course
Patreon Donations/Memberships
Sell Your Own Cookbook
Review Restaurants
Advertise Coupons
Become an Instagram Influencer
It's possible to make a full-time income from an Instagram food blog, but it requires hard work and a solid strategy.
How to Actually Make Money on Instagram (14 Proven Strategies)
Curious to learn more? Here are the top 14 ways to become a food blogger on Instagram and get paid!
1. Sponsored Posts & Brand Partnerships
Instagram food bloggers get paid per post, with your follower count and engagement rate setting the price.
Nano Influencers, who have 500 to 10,000 followers, get paid between $10 – $100 per post. Micro influencers, who tend to have 10,000 to 50,000 followers earn about $100 – $500 per post.
Check out Influencer Marketing Hub's rates (per post) below: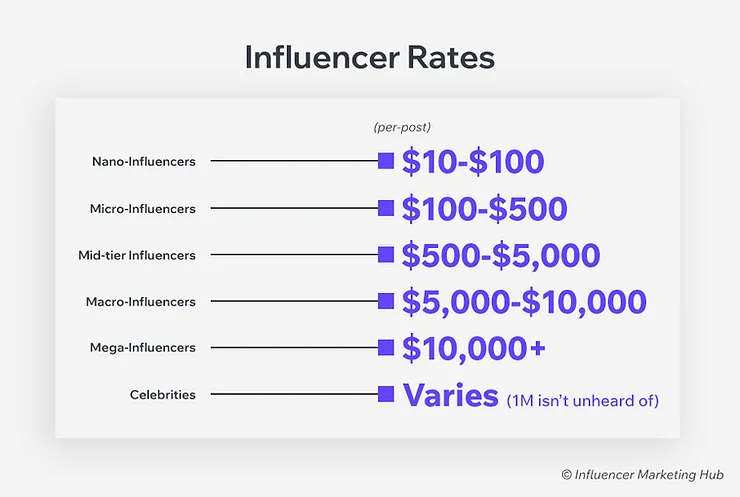 Instagram also requires influencers to disclose paid partnerships and sponsored posts. It's a good idea to include relevant hashtags and captions with this type of content. Not following these guidelines can result in your posts being removed.
Important: Brand promotion also has risks. The trust and loyalty of your audience is more important than short-term financial gain from sponsorships. If your followers lost trust in your brand, they may unfollow you or stop buying products that you recommend.
2. Live Badges
For creators in the U.S., Instagram's Live Badges is a method of making money directly through the app. During a live video, viewers can purchase badges to show their support.
To turn on Live Badges, go to your Profile and tap Professional Dashboard. Then, enable Instagram monetization. Once you've been approved, you'll see a button called Set Up Badges.
If you've enabled Live Badges, make sure to mention it when you go live and express gratitude when someone purchases a badge.
3. Instagram Subscriptions
Instagram has its own membership program called Instagram Subscriptions that allows creators to monetize their content by offering exclusive content and perks to their most engaged followers at a monthly subscription fee.
You currently need to have at least 10K followers, be over 18, and live in the U.S. to be eligible for the Subscriptions Instagram feature.
Your subscribers pay a monthly fee for exclusive content such as Stories, Lives, Reels, and chats. This can include behind-the-scenes footage, early access to recipes, personalized cooking tips, and more.
Pro Tip: While you can make money on Instagram, it's risky due to changing algorithms. The best approach is to use Instagram to drive traffic to your own WordPress food blog, where you have more control over monetization.
4. Story Highlights
Story highlights are a group of permanent stories added just underneath the bio.
Unlike your bio, where you can include one URL, story highlights can include unlimited links.
You can monetize your story highlights by including affiliate links to affiliate programs you have joined. It is also a great place to announce new products and includes URLs to the selected pages you want your audience to check out.
5. Join an Affiliate Program
Joining an affiliate program is another way to make money on Instagram. Affiliate programs pay you to market other people's products.
If your followers buy something from the brand through your affiliate links or discount code, you get paid. It is important to make sure that the products you're highlighting align with your values.
BlueApron and MealPro offer juicy affiliate programs (with MealPro offering rewards of up to $1,076 per referred customer).
Related: 30+ Best Affiliate Programs for Food Bloggers
6. Open an Instagram Shop
Instagram Shops are a direct method of making money off of the app. Users can buy products using the platform's native e-commerce tools, and it's easy to set up a shop.
An Instagram Shop is a lot like running an online store. After creating your shop, upload product images, descriptions and prices. Users can check out without ever leaving Instagram.
Hosting an Instagram shop is also a great way to provide quick customer service to folks who use social media.
Follow these five steps for creating a shop on Instagram:
Convert to a business account.
Connect your Facebook Page.
Upload a product catalog.
Complete account review.
Turn on Shopping.
Sell Your Merch
Printify allows you to design, create, and sell high-quality merchandise without inventory. It's a good option if you're starting out and want to save money. Printify is 100% free and easy to setup.
If you've curated your personal brand enough to have a certain look, logo, catchphrase, or anything else that's recognizably you, consider selling merch that's splashed with that extra sparkle.
Set up an Instagram chat bot
Pro Tip: Set up an Instagram chat bot to recommend products in your shop, directly to your customers within the chat. This is an easy way to provide make sales through direct messages! Customers can DM you or comment on posts to learn more about your brand.
7. Drop Shipping
I've tried drop shipping, and it is very lucrative compared to other forms of monetization. I started for free using the Big Cartel eCommerce platform.
There are several other free eCommerce sites, but Big Cartel is the best in my opinion. It's super easy and free.
I didn't have to carry any inventory to start drop shipping! I just found suppliers and sent them my customers' order details when I made a sale online.
8. Selling Advertising Space
Link from your Instagram food account to your WordPress blog or YouTube vlog. Selling advertising space on your own website or making money from YouTube can be super lucrative, and you can use Instagram to direct your followers to that external site.
Use a link tree to make the most of that link in your Instagram bio, and host ads on your blog to make you money!
How to easily start a WordPress food blog
To start a WordPress (WP) food blog, simply visit BlueHost.com and sign up for shared hosting.
BlueHost has a one-click WP install. The most popular plan is $2.95/month (billed annually).
Most new food bloggers choose BlueHost due to the ease of setup and low cost. This is how I started too.
9. Offer Masterclasses or a Course
If you have a particular area of expertise, you could offer an online masterclass or courses that requires a payment.
You can create short Instagram reels focusing on specific issues and list further details in captions. Instagram captions are a great way to expand on your post. You can also use the space to redirect them to your website and let them know about the courses you are offering.
What's great about this is that you can prepare course materials in advance and the recipient can download files once payment is processed.
10. Patreon Membership
Instagram food bloggers can also offer memberships on Patreon to their followers. You can also simply ask followers to tip you on Patreon if they have the means.
There are also other platforms tipping and membership programs such as Buy Me A Coffee and Mighty Networks. These platforms offer additional features such as custom branding, analytics, and integrations with other tools.
11. Sell a Cookbook
Instagram food bloogers can also use Instagram to promote a hardcover cookbook or eBook.
You can create an e-commerce website using platforms like Shopify (paid), WooCommerce, or Big Cartel to sell physical or digital cookbooks. These platforms offer features such as customizable templates, secure payment processing, and shipping integrations.
You can also use third-party platforms like Amazon, Etsy, or Gumroad to sell cookbooks. These platforms provide a built-in audience, easy payment processing, and shipping options.
Instagram food bloggers should promote their cookbook through their profile and posts.
12. Review Restaurants
Instagram food bloggers can make money by reviewing local restaurants and sharing their recommendations. Restaurants may pay bloggers to promote their products or services, as peer recommendations are often more trusted than brand content.
It's important to keep the brand trust you've worked to hard to build. Be completely honest with reviews and only partner with restaurants that offer excellent food and prices.
Having a large following within a town or city can attract local restaurants interested in collaborating with the Instagram food bloggers.
13. Coupon Advertising
How much can Instagram food bloggers charge for promoting coupons in their posts? Similar to sponsored posts, it depends on your follower count and engagement.
Some brands pay $10 or more per 1,000 followers.
14. Become an Instagram Food Influencer
"I want to be Instagram famous!"
Once you have reached a 1,000 followers, you're recognized as a nano influencer. You can then directly contact brands for sponsorship and decide on what to charge per post.
Influencer marketing is one of the top ways to make money on Instagram as a food blogger. You can be a brand ambassador promoting products, services, or campaigns.
In the next section, you'll learn how to become an Instagram food influencer!
How to Become an Instagram Food Influencer
Becoming an Instagram food takes considerable time and effort to build your Instagram profile.
Here are tips for becoming an Instagram food influencer:
Post content consistently
You need to post engaging content regularly to attract followers to your Instagram food account.
Post photos that people like
If healthy food is your thing, research which posts are the most popular on your favorite Instagram blogs. And then re-create them on your food blog. Pasta, donuts, and other goodies are very popular.
I recommend you save money when first starting out. You can make your own food photography lighting by searching "DIY food photography lighting" videos on YouTube.
You can also learn food photography for free on YouTube by watching "instagram food photography" and "cellphone food photography" videos for professional tips and tricks.
Branding tips
Pay close attention to how the grid of recent posts looks. This is your visual brand! Plan this out ahead and stay on brand.
Branding is extremely important on IG! Make sure you choose a catchy Instagram food account name and add a professional logo as your profile pic.
What are the qualities of an Instagram food influencer?
Likability
Passion for food
Engagement
Authenticity
Mind for marketing, persuasion, & sales
Expertise, authority, & trustworthiness
Develop your brand persona
Desire to help
Instagram algorithm best practices for food influencers
Follow other accounts in the food niche
Engage with users in the food niche as well
Reply to comments from your followers
Do not purchase followers, likes or other engagement
How much money can food bloggers make on Instagram?
The amount of money food bloggers can make on Instagram varies on audience size, engagement, strategy, hustle, and a dash of luck.
Average earnings per post
According to Business Insider, an Instagram influencer with 1,000 to 10,000 followers can make an average of $901 per post.
Earnings per swipe-up
A creator can be paid $100 to $1,500 for a swipe-up advertisement on their Instagram stories, according to Brian Hanly, CEO of Bullish Studio, a talent agency for influencers.
Average influencer earnings
In 2021, Hype Auditor surveyed almost 2,000 influencers (most based in the U.S.) about how much money they make.
The survey found that the average influencer makes $2,970 per month.
Average micro-influencer earnings
Micro-influencers (accounts with one thousand to ten thousand followers) earn on average $1,420 per month.
Average mega-influencers earnings
Mega-influencers (accounts with over one million followers) earn about $15,356 per month.
These numbers are just averages and can vary greatly depending on the influencer and their audience.
How To Make Money on Instagram – FAQs
How can I land an Instagram sponsorship with a small account?
If you have a small account with under 1,000 followers, you can still land sponsorships and make money from brand deals. Here are some tips and strategies for small accounts to secure Instagram sponsorships.
Create mockup campaigns to showcase your skills and build a portfolio
Use relevant hashtags to increase visibility and attract potential sponsors
Network with other creators in your niche to collaborate and learn from each other
Reach out to brands directly expressing your interest in collaborating
Be authentic and genuine in your content to connect with your audience and potential sponsors
Be flexible and open to negotiation when it comes to compensation for sponsored posts
Who are the top Instagram food influencers to follow in 2024?
The most popular Instagram food bloggers are:
@gordongram
@jamieoliver
@yolanda_gampp
@minimalistbaker
@deliciouslyella
@davidchang
@blackforager
Is it too late to be an Instagram food blogger?
No, it's never too late to start an Instagram food account in any niche, including food blogging. Cooking is a creative niche where new recipes and food trends always pop up. You can blog about food, drinks, and cooking anytime since not all recipes in the world are available in your country. And, you can always invent new recipes.
How do I get my Instagram food blog noticed?
You have to get more serious about Instagram SEO and marketing — the food niche is saturated, and you must compete to get views and followers on Instagram. Be active on Instagram, publish posts as often as possible, and optimize your posts for visibility in searches.
What are some examples of engaging Instagram food captions?
Writing engaging captions on Instagram is super important! Here are 100+ great Instagram food caption examples from Parade.com:
I lost some weight once, but I found it again in the fridge.
I love pizza. I want to marry it, but it would just be to eat her family at the wedding.
I just want someone to look at me the way I look at food.
Sorry—I'm in a relationship. With food.
Sugar, spice, and everything nice.
My milkshake brings all the boys to the yard.
Home is wherever I'm with food.
"If we shake out all of the crumbs from all of the keyboards in the world, we can end world hunger."-Matthew Dolkart
Let food be thy medicine and medicine be thy food.
Donut kill my vibe.
Call me Kim Carbdashian.
Everything tastes good when you're on a diet.
A slice of pie without cheese is like a kiss without a squeeze.
After a good dinner one can forgive anybody, even one's own relatives.
Burger is always better.
If I share my food with you, it's a big deal.
Food is an important part of a balanced diet.
Pilates? I thought you said pie and lattes!
"I am not a vegetarian because I love animals; I am a vegetarian because I hate plants."- A. Whitney Brown
Issa snack.
Related: The 10 Most Instagrammable Restaurants in the United States
You want a pizza this?
I make ice cream disappear. What's your superpower?
Carbe diem.
Eat less from the box, more from the earth.
You had me at 'pizza.'
Age and glasses of wine should never be counted.
The first sip of a hot beverage is always the scariest sip.
Brunch without champagne is just a sad breakfast.
Being a grown-up is the best, you don't need permission to have dessert for dinner.
"People who love to eat are always the best people." —Julia Child
Always crust your instincts.
A well balanced meal is a slice in both hands.
Let's talk about brunch, baby. Let's talk about you and me.
Either I eat all my food or I eat all my food. There is no in between.
Nine out of ten people love chocolate, and the 10th person is always lying.
When you think you see your food coming at a restaurant, and then you realize it's not yours.
There's no we in fries.
Found love in a hopeless plate.
Say yes to more cheese.
There is no better feeling than a warm pizza box on your lap.
I cook with wine. Sometimes I even add it to the food.
Even breakfast should begin with the desert.
I like hashtags because they look like waffles.
Just like Carrie Bradshaw, I love a good Burger.
"Give me all the bacon and eggs you have." –Ron Swanson
Being a foodie is difficult because all you want to do is eat – sometimes your friends' food as well.
If you want to avoid heartache, fall in love with food. It'll never break your heart.
I will stop eating ice cream out of the container once I make it completely level.
Seconds, thirds… who's counting?
The only way to ruin my day is to cancel lunch plans.
If you are not supposed to have midnight snacks, then why is there a light in the fridge?
Wining and dining.
The closest I've been to a diet this year is erasing food searches from my browser history.
In the mood for noods.
Television + food, a match made in heaven.
I am sorry for what I said when I was hungry.
Good food, good life.
Promises and pie-crust are made to be broken.
All you need is love. But a little chocolate now and then doesn't hurt.
I am a better person when I have less on my plate.
Does this make your heart MELT?
I think about food literally all day every day. It's a thing.
French fries are those potatoes who went to Harvard.
Life is like ice cream. Enjoy before it melts.
Every pizza is a personal pizza if you believe in yourself.
There is no greater love than the love of food.
When you mix good flavors, then the food turns into orchestra.
A burger is meant to be eaten like you love it.
Let food be thy medicine and medicine be thy food.
An avocado a day keeps the doctor away.
My dinner stomach is full, but my dessert stomach still has room.
"The only thing I like better than talking about food is eating." -John Walters
Healthy Food = Happy Food; Happy Food = Happy Body; Happy Body = Happy Mind.
Food is really and truly the most effective medicine.
I'm not like other girls. I know what I want for dinner. I've been thinking about it since lunch.
Life is a combination of magic and pasta.
Being in love with food isn't a statement. It is an emotion.
There is nothing more romantic than Italian food.
When I cannot eat, I talk about eating.
Probably the best meat eater in the world.
Life is short. Eat more Donuts.
Food is not rational. Food is culture, habit, craving, and identity.
I may settle for everything but with food there is no compromise.
Some days I eat salads and go to the gym. Some days I eat cupcakes and refuse to put on pants. It's called balance.
Gigi Hadid eats a burger once a week and so do I.
My friends tell me that cooking is easy, but it's not easier than not cooking.
When life hands you lemons, give them back. You deserve chocolate.
Square Box, Round Pizza, Triangular Slice, It's So Misleading.
You don't need a silver fork to eat good food.
I followed my heart and it led me to the fridge.
Fish, to taste right, must swim three times – in water, in butter, and in wine.
"Another day, another 13,000 calories." — Andy Lassner
The only thing better than talking about food is eating it.
No matter how full I am, I still have room for dessert.
Count the memories, not the calories.
There's no better feeling in the world than a warm pizza box on your lap.
Anything is good if it's made of chocolate.
First, we eat. Then, we do everything else.
I love to sleep, because it's like a time machine for breakfast.
Food is the best medicine.
How do I earn money with a WordPress food blog?
I've had a WordPress food blog for about 5 years and earn money most of my money with ads. Bloggers typically need to have some traffic before being approved for the Google AdSense ad network. Once I reached a certain session count, I was accepted to the Mediavine ad network–which has higher RPMs than AdSense. I also monetize my food blog with the Amazon affiliate program.
I hope this article has helped. I love hearing from you! If you have any questions about Instagram food blog monetization or about how I make money with my WordPress food blog–submit your questionbelow and I will reply as soon as possible. Your email address will not be published. Comments that are abusive, or personal attacks of any kind, will be removed.