Looking for fruits that start with the letter Y?
In this article you will discover popular and exotic fruits from all over the world. Including several tasty yellow fruits – like yellow watermelons, yellow passion fruits, and yellow plums.
I've gone on an extensive journey and collected 32 fruits that start with Y here.
Related: 20 Naturally Blue Fruits You Should Be Eating
1. Youngberry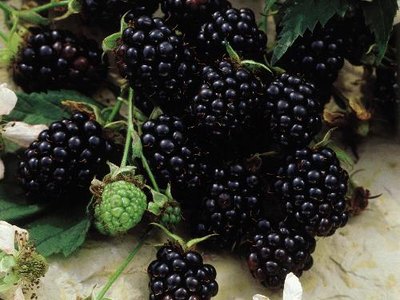 Love blackberries? Youngberries are even softer and juicier than blackberries. The youngberry originated in Louisiana by crossing a blackberry–raspberry hybrid with a dewberry.
Youngberries are typically used in pies, jams, and other desserts. They can also be eaten fresh.
When shopping for youngberries, look for fruit that is plump and firm. Avoid fruit that is soft or bruised. Youngberries are best enjoyed within a few days of purchase. Store them in the refrigerator until ready to eat.
They are high in vitamin A, B2, and C. Youngberries are also rich in antioxidants and calcium.
2. York Apple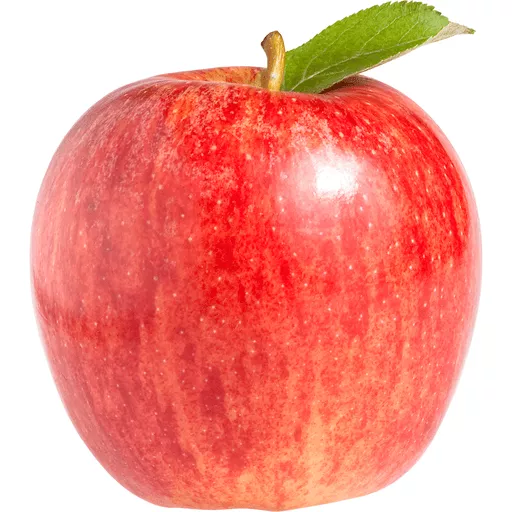 As the saying goes, "An apple a day keeps the doctor away."
The York imperial is a variety of apple characterized by its red skin which contains streaks of yellow, and white specks. It has a creamy white flesh that is crisp and thick in texture. York Imperial is a perfect combination of sweet but tart flavor.
Apples are rich in fiber, vitamin C, and polyphenols. Most polyphenols are just below the apple skin, so be sure to eat the whole apple.
The York Imperial apple was first cultivated in York, Pennsylvania.
3. Yellow Golden Raspberries
Without antioxidant rich yellow fruits, this list would have been short. Yellow golden raspberries are a rare raspberry with the sweeter, milder taste than red raspberries.
They can be eaten fresh or used in jams, jellies, and other preserves. Thanks to their sweet flavor and nutritional value, golden raspberries are a delicious and healthy addition to any diet.
Raspberries = YUM!
4. Yuzu
This yellow (sometimes green) citrus fruit has a rough and bumpy rind. Its flavor is similar to a sour grapefruit, Yuzu are also known for their high vitamin C content. They're also high in potassium, calcium, and fiber.
Yuzu is an Asian fruit popular in both Japan and Korea. Its also grown in New Zealand, Australia, Spain, Italy, and France.
The fruit is thought to be native to China as a hybrid of the mandarin orange and ichang papeda.
5. Yellow Passion Fruit
Yellow passion fruit is also known as sweet granadilla or grenadia. The Yellow passion fruit has a yellow peel and a rounded or egg shape. The yellow-orange pulp is very juicy, with several small brown seeds.
The taste of yellow passion fruit is sweet and tart with subtle floral nuances. What's not to love about a fruit called passion?
6. Yamamomo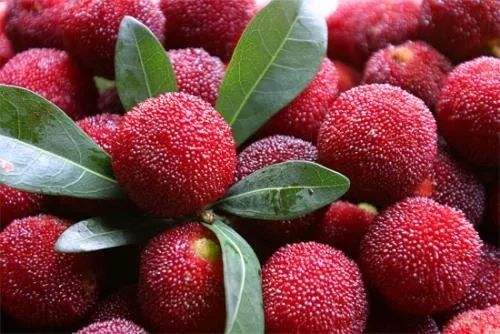 Looking for a simple yet satisfying fruit snack? This cherry-sized fruit has a flavor not unlike strawberries and raspberries, just slightly more acidic and with an herbal note.
Yamamomo are also known as yumberry, Japanese bayberry, red bayberry, waxberry, yangmei, Chinese bayberry, and Chinese strawberry. Yamamomos are native to Japan.
7. Young Mango
The Young mango is also known as the 'Tebow' mango. Young mango was renamed the Tebow mango after an American football quarterback. There are hundreds of known mango varieties.
The fruit has a round shape much like the Kent mango. The peel is a golden yellow and orange color. The pulp is a pale yellow with a subtle taste.
8. Yellow Guava
Yellow guavas have a yellow peel and oval shape. Their pulp is either white, yellow, or pink.
Yellow guava has the sweetest taste among all guavas varieties. They are typically used in desserts. Make a tropical smoothie of pineapple, mango, and guava to switch it up a bit.
Guavas are very rich in vitamin C and lycopene. And also have high amounts of beta carotene and flavonoids.
9. Yali Pear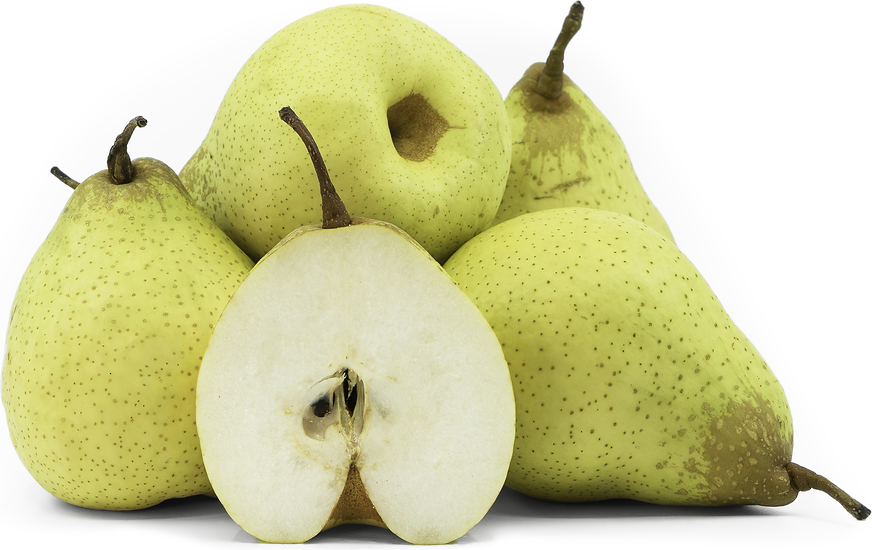 The yali pear has slightly round shape with yellow to light green skin. The pulp is more tender and juicier than the Asian pear.
The Yali pear ripens after picking and develops a very sweet taste.
Yali pears are rich in vitamin C, vitamin K, potassium, copper, antioxidants, copper and fiber.
10. Yaca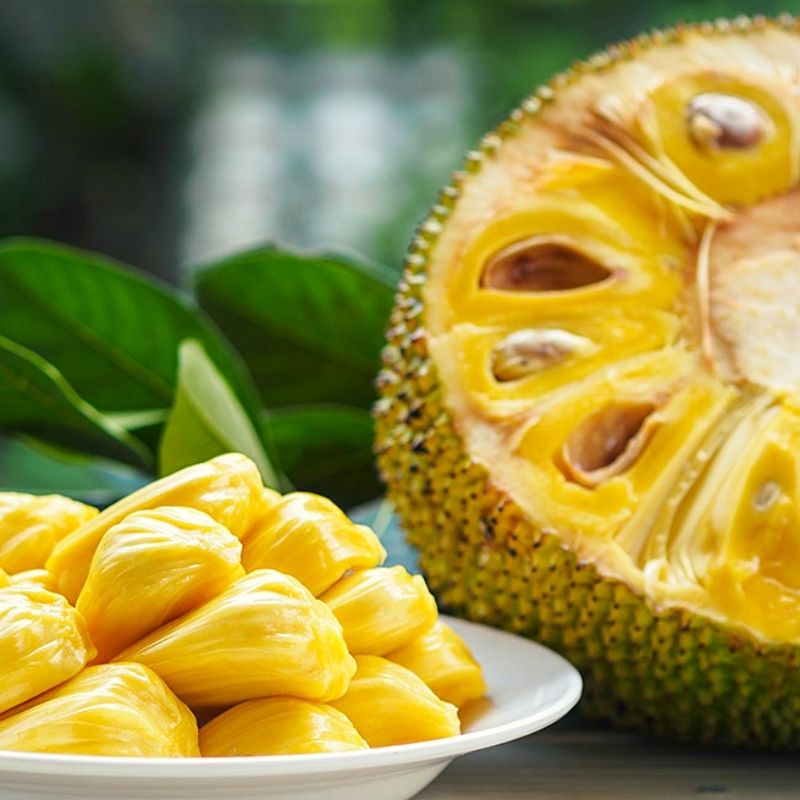 The yaca is also known as the jackfruit, jaca, or guanábana (in Mexico). It is considered the largest of all tree fruits and can weigh up to 100 lbs.
The jackfruit flesh is fibrous and dense with a texture somewhat similar to pineapple. Some describe the taste as sweet. But when cooked, it can take on a mildly meat-like flavor.
11. Yellow Grapes
Yellow grapes are also known as centennial grapes. This grape variety originated in California. Yellow grapes are seedless and have a sweet pulp.
Grapes come in other colors like red, purple, black, dark blue, green, white, orange, and pink.
12. Yuplo
The yuplón is also known as hog plum, plum mango, yoyomo, yellow mombin. They are native to the tropical Americas and the West Indies.
The flavor is similar to sweet lime or lychee. Unripe hog plums are often pickled in Mexico. Due to their sour/bitter taste, they normally become juices, jams, jellies, or ice cream. Who doesn't love ice cream?
Yuplón is rich in vitamin C and antioxidants.
13. Yellow Bell Pepper
Bell peppers are botanically fruits. All peppers are classified as fruit because they have seeds.
Yellow, orange, and red bell peppers are rich in vitamin A, vitamin C, and potassium, iron, folate and fiber.
14. Yellow Plum
One of summer's simple pleasures is a juicy plum. The yellow plum is also called the lemon plum. It is round and smaller than some other plum varieties. The fruit has a sweet-tart tangy yellow peel and tasty yellow pulp.
15. Yucatán Huayas
Huaya fruit (aka guayas) are a small fruit found in the Yucatan Peninsula. Huayas are similar to rambutans and lychees.
You eat huayas, simply crack the skin by pressing on it. Suck on the pulp that is on the large seed that pops out. Be careful not to swallow the large seed as it can be a choking hazard.
The taste of huayas can vary from sour to sweet. They are typically used to make jams, preserves, drinks, or alcoholic beverages.
16. Yellow Dragon Fruit
The yellow dragon fruit has a yellow skin, an oval shape, and prominent scales. The pulp has a mild taste, and can be sweet or slightly sour. The pulp is white or grayish with scattered black seeds.
Dragon fruit is rich in nutrients like fiber, iron, magnesium, and vitamins C and E. It's also an excellent source of carotenoids, such as lycopene and beta carotene.
17. Yubari King Melon
Japanese yubari king melons sell for up to $45,000. They are the most expensive melons on the planet. Yubaris are a hybrid variety of cantaloupe with a high sugar content. In Japan, it is believed that the first harvest brings good luck.
Yubari melons are grown in greenhouses in the Yubari region of Japan. This masterpiece of a melon tastes very sweet, tender and juicy when ripe. The fruit has a mix of fruity nuances like watermelon, peach, and vanilla.
18. Yen Ben Lemons
The Yen Ben is a hardy lemon variety grown in New Zealand. The yen ben has a sour taste and very few seeds. It's rind is smooth and thin.
When life gives you lemons, make a refreshing yen ben lemonade.
19. Yellow Summer Squash
There are two varieties of yellow squash, namely straightneck and crookneck. Crookneck squash have a fat bottom and thin, curved neck.
Yellow squash have a subtle taste. The texture is tender and softens further when cooked.
20. Yamagata Cherry
Nothing on earth compares to a perfectly juicy and sweet Yamagata cherry. The Yamagata prefecture in Japan is a known for world class cherries that can cost up to $7, each!
Yamagata is also world famous for their delicious pears!
Cherries are rich vitamin A, vitamin C, vitamin K, potassium, antioxidants, and fiber. They also contain melatonin, tryptophan, and serotonin.
21. Yellow Mango
The yellow mango has a sweet taste. And has a smooth, non-fibrous texture. This would make the perfect summer smoothie.
Yellow mangos are rich in vitamin A, vitamin C, vitamin E, vitamin K, folate, potassium, folate, polyphenols, and fiber. The peel develops small wrinkles when ripe.
22. Yuja
Yuja is the Korean word for yuzu, the Asian citrus fruit. Yuja is a variety of citrus that looks like a small grapefruit. The skin looks bumpy and yellow when ripened. The unique flavor is a mix between lemon and grapefruit.
In Korean, yuja is eaten fresh, in fruit punches, and for a marmalade used to make tea.
Yuja (aka yuzu) is very scarce and expensive in America since the fruit is illegal to import.
23. Yong-gwa
Yong-gwa is Korean for dragon fruit. Dragon fruit has a stunning appearance, with brightly colored red, yellow or purple peel and occasionally with prominent scales. The fruit is oval shaped.
The pulp can be red, white or grayish with scattered edible black seeds.
When ripe, dragon fruit has a soft texture and subtly sweet and tart flavor often described as kiwi and pear-like.
It is high in vitamin C and antioxidants.
24. Yellow Watermelon
Yellow watermelons look the same as red watermelon varieties on the outside, except that they have a bright yellow pulp. Some have described the taste as sweeter than red varieties.
Watermelon is rich in vitamins A & C, potassium and lycopene. Yellow watermelon, like other watermelon varieties has a high water content along with electrolytes.
25. Yatay Palm
Yatay palm is also called butia yatay, jelly palm, jatai, or pindo palm. The fruit is native to Brazil, Argentina, and Uruguay.
You can eat it fresh off the tree (the seed is not usually eaten). Yatay palm can be used to make james, jellies, or wine.
When ripe, yatay palm is soft to the touch. It will have a tropical, nutty, sweet, and tart taste with notes of pineapple, coconut, banana, and apricot.
26. Yellow Tomato
Yellow tomatoes come in different varieties like earl of edgecombe, lemon boy, Dr. Wyche's, and dixie golden giant. Yellow tomatoes have a thick skin and a juicy, watery pulp.
Yellow tomatoes have a mild, sweet flavor which is less acidic than its red counterparts.
Yellow tomatoes have more sodium, phosphorous, niacin, and folate than red tomatoes. They also contain vitamin C and potassium.
27. Yunnan Hackberry
Yunnan hackberries are a sweet-tart, dry, and tasty berry. The skin color can be green, yellow, orange, or purple depending on the variety. The fruit is originated in China and Southeast Asia.
The fruit has a flavor similar to dates. Hackberries are extremely nutritious fruits.
28. Yellow Sapote
Yellow sapote is also known as egg fruit or canistel. It is orange-yellow on the outside with a sweet flavor.
Yellow sapote can be made into shakes, ice cream, and also cooked in pies, custards, and other desserts.
Yellow sapote is rich in vitamin C, vitamin B6, phosphorous, copper, and fiber.
29. Yemenite Citron
This fruit is a variety of citron. Citrons are large fragrant citrus fruits with thick rinds. The rind is yellow and has an aromatic lemony scent when ripe. Yemenite citrons usually don't have juice vesicles in its segments.
Yemenite citrons have a very sour taste. They are very rich in vitamin C similar to other citrus fruits.
30. Yellow Corn
Corn is technically considered a fruit. Yellow corn has a sweet taste and crispy texture. It is tightly wrapped in a light green husk with silks and a tassel extending at its tip.
The yellow pigment comes from beta carotene, which converts into vitamin A when eaten.
31. Yeheb Nut
Many edible nuts are technically fruits. Yeheb nuts are native to the Horn of Africa.
Yeheb nuts have a sweet, cashew or chestnut-like taste when roasted.
Yeheb nuts are nutrient rich and contain calcium, magnesium, essential amino acids, potassium and phosphorus.
32. Yard Beans
Green beans are actually a fruit. They are grown for their edible green pods that contain seeds, much like the snap bean.
Fruits that Start with Y FAQs
Which fruit starting with the letter Y is high in sugar?
The York Imperial Apple contains about 13 grams of sugar.
Which fruits that start with Y have the highest water content?
Yellow watermelon has the highest water content of fruits that start with the letter Y. Watermelons typically contain about 96% water.
Which of the fruits starting with the letter Y are rich in protein?
Yellow guava, young blackberry, and yellow raspberry are fruits that start with the letter Y that are high in protein.
Which fruit that starts with Y is toxic?
Yew berries have deadly poisonous seeds. Yew berries are a toxic wild berry to avoid, eating too many yew berry seeds can kill or cause seizures.
Which fruits that starts with Y are high in fiber?
Yellow Raspberries have about 8 grams of fiber per cup. Yellow guavas have about 9 grams of fiber per cup.
Share this Article
If you found this post about fruits that start with Y helpful, please share it with your friends and followers!
:: save for later ::