I went on an exhaustive journey to list easy dessert recipes.
From creamy no-bake cheesecakes to indulgent chocolate pudding, this listicle has got something for everyone.
Ahead, browse through the best easy dessert recipes with just 2 to 5 ingredients!
Related: 18 Lazy 2-Ingredient Desserts with Condensed Milk
Easy Dessert Recipes
These easy desserts grab no-bake recipes, store-bought pie crusts, leftovers, instant pudding boxes, the microwave, and other shortcuts.
1. 5-Ingredient No Bake Oreo Pie
Ore-OMG!
No-bake Oreo pie only looks impossible.
Try this decadent 5-ingredient recipe, it's sooo easy!
2. 2-Ingredient Peanut Butter Cookies
Peanut butter and maple syrup are all you'll need. It you want to jazz them up, add chocolate chips or top with jelly.
Related: 28 Easy Canadian Dessert Recipes
3. Banana Split
Banana split is ready in a split second with fresh banana, three scoops of ice cream, cherries, whipped cream, and nuts.
More: 62 Desserts That Start With B
4. Easy Chocolate Pudding
This chocolate pudding can be prepared in an "instant".
Chocolate pudding dessert is a creamy and tasty no-bake treat.
5. Buckeyes
This easy dessert is prepared with peanut butter partially dipped in chocolate.
Buckeyes aren't peanut butter balls since they aren't completely covered in chocolate.
6. Quick & Easy English Trifle
This super easy layered dessert is sure to be a hit!
English trifles are made by layering leftover cake, fruit, and pudding.
If you're looking for an easy summer dessert idea, why not try trifle? Triffle is amazing served chilled on a hot summer day.
The best part about it is that you can make it with almost any kind of cake and instant pudding. You can also vary the thickness of its layers.
Sooo easy!
7. Easy English Arctic Roll
This quick & easy, decadent British dessert cake is made with sponge cake, vanilla ice cream, and cranberry sauce between the layers.
It doesn't get much easier!
More: 48 Desserts That Start With A
8. No-Bake Australian Pavlova
Ready in just minutes, this quick and easy dessert is perfect for busy weeknights.
Pavlovas are a simple meringue-based dessert cake with an airy interior and a crunchy crust.
Originally from Australia/New Zealand, Pavlovas were named after the Russian ballerina Anna Pavlova.
Related: 42 Easy Australian Desserts
9. Oreo S'mores
OREAS + MARSHMALLOWS + CHOCOLATE = S'MOREOS!
Ready in minutes.
10. Microwave Arroz Con Dulce
You can now make this arroz con dulce (rice pudding) in your microwave!
Rice pudding is a classic because they're really, really easy.
Arroz con dulce is a traditional Christmas dessert in Puerto Rico and several other island countries. Festive spices like cinnamon, ginger, and cloves give it that holiday flavor.
11. Açaí Na Tigela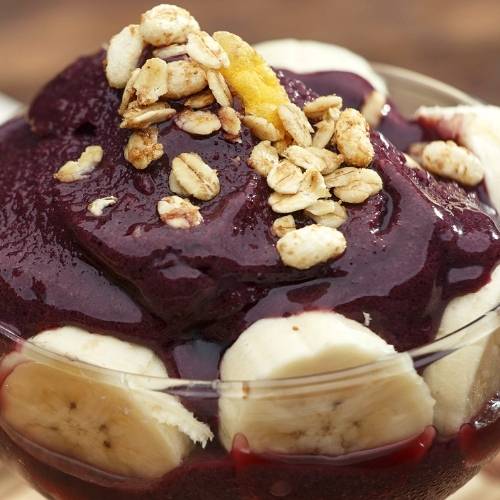 Açaí na tigela is a tasty and cold Brazilian dessert that can be whipped up in a few minutes. No oven required.
It is made from frozen and mashed fruit of the açai palm. Acai berries have an "earthy" or creamy flavor.
Super healthy and ready in minutes. No baking required!
12. No-Bake Cheesecake
Smooth and creamy no-bake cheesecake makes use of cream cheese and crushed graham crackers. And not your oven.
13. Affogato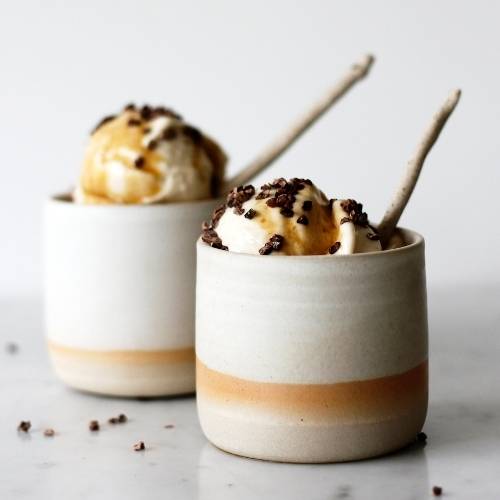 Affogato, an Italian coffee-based dessert. It usually takes the form of a scoop of gelato or ice cream topped or "drowned" with a shot of hot espresso.
Top affogato with whipped cream to kick this easy dessert up a notch in seconds.
14. Apricot Crisp
Sweet, juicy apricots topped with oats is easy and irresistible!
15. Anmitsu
Anmitsu is a no-fuss, traditional Japanese dessert.
It's made with fruit, mochi, red bean paste, green tea ice cream, kanten (agar), and drizzled with syrup.
16. Amish Friendship Cake
No need to make a new starter every time! Amish Friendship Cake (AKA Hummingbird Cake) is made from a starter from another Friendship Cake shared by friends.
A starter is a leavening made from fermented bread dough.
17. Applesauce Cake
Applesauce is fantastic in cake, and this easy dessert is proof.
18. Ambrosia
An easy fruit salad dessert that includes miniature marshmallows, heavy cream and coconut.
Ambrosia began appearing in cookbooks in the late 1800s when citrus fruit became more prevalent in markets across the United States.
19. Apricot Crumble
Apricot crumble is a tasty fruit dessert.
Sweet, juicy, and the buttery. It doesn't get much better.
20. 3-Ingredient Aseedah
Bring the Middle East to your kitchen with whole wheat Aseedah.
You'll just need flour, water, and salt. Top with honey for extra sweetness.
Related: 28 Genius 3-Ingredient Desserts with Sweetened Condensed Milk (Recipes)
21. No-Bake Avocado Cheesecake
This easy no-bake, green dessert relies on the smooth, creamy texture of avocado to form a stiff, custardy base — no gelatin required.
Top with a red fruit like cherries, strawberries, raspberries and whipped cream for an easy upgrade.
It's perfect for a quick & easy dessert for dinner, the holidays, or on special occasions.
22. Arrowroot Cookies
Minimal ingredients and baking time (done in just 10 minutes) make arrowroot cookies super easy to prepare.
Arrowroot is also rich in several B vitamins and iron.
23. Brownies
Need more fudge in your life?
Brownies keep the tasty levels up and the stress levels down in the kitchen.
24. Bundt Cake
Bundt cake's dense batter and large baking pan means they bake faster.
Drizzle a quick vanilla glaze on top for extra tastiness.
25. Brown Betty
Brown Better is similar to crisps, but this easy dessert uses buttery, sweetened breadcrumbs instead oats.
Brown Betty also layers the fruit and breadcrumbs.
26. Berlingozzo
Berlingozzo is an easy-to-make soft, Tuscan cake.
27. Bananas Foster
Easy to put together, Bananas Foster is made with bananas and vanilla ice cream. The sauce is made with butter, rum, banana liqueur, brown sugar, and cinnamon.
28. Blondies
There's nothing like blondies! Its a simple (basically foolproof) dessert bar similar to a brownie. Blondies are super easy to put together, so you can have more fun in the kitchen.
29. Bread and Butter Pudding
Ready in no time! This dessert requires minimal ingredients.
English bread and butter pudding makes use of leftover bread, milk, cream, and eggs for a custard-like pudding.
To brown and achieve a crispy texture, sprinkle sugar on top before baking.
30. Baked Rice Pudding
Rice pudding is a creamy, comforting dessert with just 5 ingredients.
Its easy, delicious, and foolproof.
31. Broken Glass Jell-O
Broken Glass Jello is always a hit! And this no-bake wonder is really easy to make!
32. Butter Cake
There are only a few ingredients in fluffy Butter Cake: butter, sugar, eggs, flour, and a leavener like baking soda or baking powder. You can't go wrong with this simple, quintessential American cake.
33. Bear Claw
Bear Claws are a simple, flaky Danish pastry that save you so much time in the kitchen.
They are filled with almond paste, drizzled with glaze, and topped with sliced almonds. Add raisins too, if you're into that sort of thing.
For even more efficiency, the dough and filling can also be made ahead of time, and frozen.
34. Butterscotch Pudding
This easy pudding comes together in minutes!
Novice friendly butterscotch pudding uses pantry staples for an easy, rich dessert.
35. Budin
36. Bread Pudding
The simple ingredient list means you can make it quickly, even on a whim.
What you'll need: leftover bread, milk, eggs, butter, sugar, spices; and a few extra ingredients (whipping cream with vanilla extract) for the sauce.
Pretty much any stale bread works!
37. Brutti Ma Buoni
Known in Italian as Brutti Ma Buoni or "ugly but good," these crispy-chewy cookies can be found at bakeries all over Lazio.
The name pretty much speaks for itself.
38. Budino
Budino is a type of Italian pudding. It can be sauces with fruit, chocolate, butterscotch or caramel.
39. Beigli
A super easy Hungarian yeasted bread or roll with a sweet walnut filling and crackly crust.
40. Bavarian Cream
A box of vanilla instant pudding, some whipping cream, and a hand mixer is all you will need.
Serve with fresh fruit to make it healthy! Simply use the juice from melted, frozen fruit as a sauce.
41. Bingsu
Scrape up dessert fast with this Korean shaved ice dessert.
Add sweet toppings like chopped fruit, condensed milk, fruit syrup, and red beans.
42. Bubble Tea
Bubble tea is an easy, creamy, dessert in a plastic glass filled with boba pearls.
You'll be amazed at how easy it is to make!
43. Brittle
Classic peanut brittle is one of those easy desserts that comes out delicious every time!
Easy, homemade brittle is a crunchy, buttery confection made with peanuts (or any other nut you'd like).
It's also ideal for gift giving!
44. Banana Pudding
Quick and easy banana pudding is a sweet dessert originating in the South.
You won't need an oven for this 5 ingredient dessert treat. You'll only need Nilla wafers, Jello instant pudding, ripe bananas, Cool Whip — and 15 minutees!
45. Box Cake
To say that Americans are obsessed with box cake is an understatement.
Literally everyone has made a birthday cake from this cake mix!
They come in a variety of flavors. And you can even mix up the batter with just a can of soda.
Yes, soda pop box cake is an actual thing.
46. Easy Amish Baked Custard
American custard is made with sweetened milk, cheese, or cream cooked with egg or egg yolk to thicken it, and sometimes also flour, corn starch, or gelatin.
47. Coconut Cream Pie
Features a thick and creamy coconut filling, crispy homemade pie crust, mounds of sweet whipped cream, and toasted coconut.
48. Apple Crisp
American crisps are baked with the fruit mixture on the bottom with a crumb topping.
The crumb topping can be made with flour, nuts, bread crumbs, cookie or graham cracker crumbs, or even breakfast cereal.
A Crumble is the British version of the American Crisp.
49. Ridiculously Easy Blueberry Crumble
Crumbles became popular in Britain during World War II, when the topping was an economical alternative to pies due to shortages of pastry ingredients as the result of rationing.
50. Easy Vegan Churros
Churros are long, doughy, crispy deep-fried yeast dough encrusted with sugar. Is there anything better?
51. Fruity Clafoutis
A baked French dessert of fruit, traditionally black cherries, arranged in a buttered dish and covered with a thick flan-like batter. It's dusted with powdered sugar and served lukewarm, sometimes with cream.
52. Easy Dutch Baby Pancake
A large American popover. A Dutch baby is similar to a large Yorkshire pudding.
Compared to a typical pancake, a Dutch baby is always baked in the oven, rather than being fried on both sides on the stove top, it is generally thicker than most pancakes.
53. Dulce de Leche
Also known as caramelized milk or milk jam in English, is a confection from Latin America prepared by slowly heating sugar and milk over a period of several hours.
54. Quick & Easy Dirt Cake
An American cake made from sandwich cookies (like Oreos), vanilla pudding, and other ingredients to create a dessert that has a resemblance to soil or earth.
55. Do Nothing Cake
This dessert gets its name because it originated in the 1940's and recipes were usually made from scratch, had a lot of ingredients, and hard to make.
This one is very easy, takes no time to throw it together, and is so delicious.
56. Elephant Ears
Not to be confused with funnel cakes, elephant ears originated in America. Inspired by the fry bread of Native Americans.
A popular, dessert snack that gets its name from the shape the dough takes once deep-fried – looking very similar to an elephant ear!
More: 80 Easy Funnel Cake Recipes
57. Lazy Egg Nog
During the 1700s, eggnog came to America from England and became a symbol of the holidays.
It is traditionally made with milk, cream, sugar, whipped egg whites, and egg yolks and served at Christmas Time.
58. Funnel Cake
Funnel cake is a lovely light batter fried until golden brown, most often topped with powdered sugar.
They are associated with the Pennsylvania Dutch, German immigrants who came to Pennsylvania in the 17th and 18th centuries.
59. Apple Fritter
Corn fritters originated in Native American cuisine, they are a traditional sweet and savory dessert snack in the Southern United States.
They are deep-fried cakes of a yeast dough. Fruits can also be added.
60. 15-Minute Strawberry Cheesecake Salad
An easy, creamy dessert Salad. Use your favorite berries to create the tastiest, healthy fuit salad ever!
61. Grilled Apples A La Mode
Grilled apples make the best summer dessert! Grill them with sugar and spices until tender, then serve them with "a la mode" with melty vanilla ice cream.
Pie a La Mode originated in New York in the late 1890s.
62. Blueberry Grunt
Grunts are biscuit or dumpling-topped stewed fruit desserts that are cooked on the stovetop in a covered Dutch oven or cast iron skillet.
What is called a Grunt in Massachusetts is known as a Slump in Vermont and Maine.
They were popular New England dishes with a close resemblance to British steamed puddings.
63. Golden Oreo Dirt Pudding
This recipe is super simple, but so tasty with cream cheese, pudding, whipped cream, and delicious Golden Oreos.
64. Creamy Instant Chocolate Mousse
A no-cook pudding made by Jell-O.
65. Tembleque
This creamy pudding is a Puerto Rican (U.S. territory) specialty. Made by cooking coconut milk with cornstarch and sugar, then topping the concoction with cinnamon.
The name tembleque means wiggly, referring to a slight wiggle when the pudding is shaken.
66. Junket with Strawberries
A milk-based dessert, made with sweetened milk and rennet, the digestive enzyme that curdles milk. Some older cookery books call the dish curds and whey.
67. S'Mores in a Jar
Aka party in a jar, this fun dessert is layered with graham crackers, marshmallows, and chocolate and served in a jar.
68. Key Lime Pie
An American dessert pie made of Key lime juice, egg yolks, and sweetened condensed milk.
It may be served with no topping, topped with a meringue topping made from egg whites, or with whipped cream; it may be cooked in a pie crust, graham cracker crust, or no crust.
69. Blueberry Kolache
At the 2007 Kolache Festival in Burleson County Texas, around 25,000 guests consumed more than 60,000 kolache.
A kolach is a Czech sweet pastry that holds a portion of fruit surrounded by puffy dough. It is made from yeast dough and common flavors include quark spread, fruit jam, and poppy seeds.
70. Obe Kalamay
Ube Kalamay features coconut flavor and rice. It's gluten-free, too!
71. Lemon Chess Pie
A simple combination of eggs, sugar, and butter, and lemon. With the tiniest bit of flour or cornmeal for thickening.
Chess pie originated in the South.
72. Cake Mix Whoopie Pies
An American baked product that may be considered either a cookie, pie, sandwich, or cake. It is made of two round mound-shaped pieces of usually chocolate cake, or sometimes pumpkin, gingerbread or other flavored cakes, with a sweet, creamy filling or frosting sandwiched between them.
73. Millionaire Pie
A no-bake American pie. This pie is a dish from the Southern United States and originally from South Carolina. Because it was so rich, it gave rise to the name.
74. Monkey Bread
A soft, sweet, sticky pastry served in the United States.
It consists of pieces of soft baked dough sprinkled with cinnamon. It is often served at fairs and festivals.
According to conventional lore, the fanciful term monkey bread comes from its appearance – said to resemble a barrel of monkeys.
75. 5-Minute Microwave Cheesecake
With its Graham cracker crumb crust, cheesecake filling, and fresh fruit topping, you'll never need to turn on your oven again to make a satisfying dessert.
American engineer Percy Spencer is generally credited with inventing the modern microwave oven after World War II from radar technology.
76. 1-Minute Microwave Chocolate Chip Mug Cake
This chocolaty treat is great for nights when I need a yummy dessert that is ready in 1 minute!
American engineer Percy Spencer is generally credited with inventing the modern microwave oven after World War II from radar technology.
77. Nougat
An after-dinner sweet with coffee, crumble it over ice cream or use it in desserts and puddings. It's made of whipped egg whites, sugar and/or honey, and nuts.
78. Bailey's Cookies & Cream Parfait
Parfait is a frozen dessert made from a base of egg yolks, sugar, and whipped cream, and can be flavored with fruit, nuts, or coffee.
Parfait means perfect in French.
79. Popovers
The popover is an American version of Yorkshire pudding. Typically baked in muffin tins or dedicated popover pans.
The first cookbook to print a recipe for popovers was M. N. Henderson, Practical Cooking, 1876.
80. Pistachio Pudding
Pistachio pudding is smooth and creamy, intensely nutty — and green.
81. Panocha
In New Mexico and southern Colorado, Panoch is a pudding made from ground sprouted wheat and piloncillo.
It is traditionally eaten during Lent.
82. Skillet S'mores Dessert Dip
A s'more is a campfire treat popular in the United States, consisting of toasted marshmallows, and a layer of chocolate sandwiched between two pieces of graham cracker.
No one knows for sure who invented the s'more. However, the first published recipe for "some mores" was in a 1927 publication called Tramping and Trailing with the Girl Scouts.
83. Strawberry Pretzel Salad
Old-fashioned Strawberry Pretzel Salad consists of a salty pretzel crust topped with a creamy and sweet cream cheese layer and a strawberry Jell-o topping filled with fresh strawberries.
84. Hawaiian Shave Ice
Also called Hawaiian shave ice, is an ice-based dessert made by shaving a block of ice and flavoring it with syrup and other sweet ingredients.
85. Scotcheroos
Dessert bars with chocolate, butterscotch, peanut butter, and Rice Krispies. They are popular in the Midwestern United States, especially Iowa.
86. Snickers Caramel Apple Salad
An easy dessert salad consisting of a mix of Snickers bars, apples, whipped cream and often pudding or whipped topping served in a bowl. Variations are sometimes included in church cookbooks.
87. Tapioca Pudding
Tapioca pudding is underrated. This vintage dessert is too easy and tasty to fall out of style.
88. Easy Texas Sheet Cake
Texas Sheet Cake is an amazing chocolate cake recipe made in a jelly roll pan and covered in warm chocolate frosting. It the easiest chocolate cake to make, and perfect for a party or potluck.
89. Thumbprint Cookies
These classic cookies are made with a simple sugar cookie dough, rolled in sparkling sugar, and then indented and filled with jam.