When you buy through links on our site, we may earn an affiliate commission. Please see our disclosure to learn more.
The best tungsten rings come in a variety of styles. Get inspired with these 30 tungsten wedding band ideas.
Tungsten is an increasingly popular wedding ring material happens to be more affordable than gold or platinum. If you're on the hunt for something that's unique, a tungsten carbide wedding band might be for you.
Luckily, there are plenty of options to choose from, depending on your personal style and preference.
With so many different choices out there, there really are phenomenal tungsten wedding band options at every price point.
Scroll through the 30 tungsten wedding rings guaranteed to suit every style and budget.
1. Blue Nile – Brush and Polished Finish Tungsten Wedding Band
Bold and contemporary, this men's tungsten wedding ring is crafted in durable tungsten carbide. The gray tone design features a brushed finish and polished edges for contrast. The 8mm width makes it a timeless and sophisticated choice.
2. Jared – Beveled Black Tungsten Wedding Band
Looking for something classic? The matte finish and beveled edges of this ring elevates the style. The edding band features a combination of black PVD and tungsten carbide for distinctive style. The ring is Supreme-Fit™ for maximum comfort.
3. Triton Men's Diamond Wedding Band in Tungsten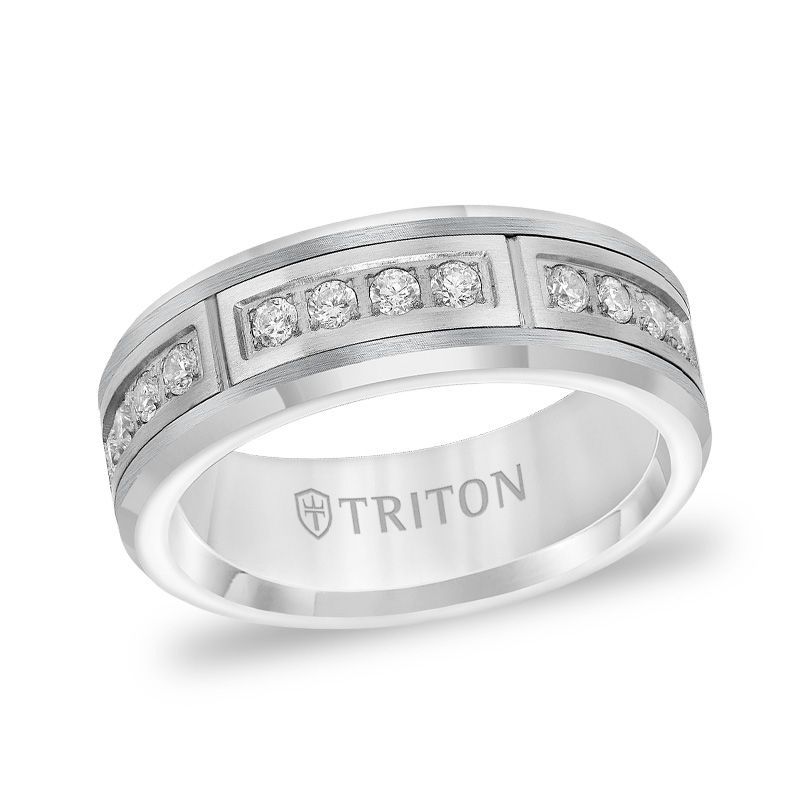 Shine bright with this sparkling diamond tungsten wedding band from the Triton Collection. This ring features quartets of shimmering channel-set diamonds in segmented frames making it an elegant choice.
4. Isabella Domed White Tungsten Wedding Band for Women – 4mm
It doesn't get much more ageless than diamonds. Add a bit of sparkle to your tungsten carbide ring with this sleek yet striking piece. Featuring three simple diamonds, you simply can't go wrong with this wedding band.
5. Larson TSAR Black Tungsten Ring with White Diamond Inlay
Diamonds are forever. The timeless TSAR wedding band is proof of his strength and commitment. This comfort fit ring, is paired with a diamond inlay and black tungsten.
Tip: If you have larger knuckles, look for 'comfort fit' rings, which are rounded on the inside. That helps them slip over your knuckles and forget you're wearing a ring.
6. Brilliant Earth – Black and Gold Tungsten Carbide Wedding Band
This sleek black tungsten band with gold interior is a smart and modern choice for any groom. The mixed metal wedding band features a raw black tungsten exterior complemented with a gold interior for an elevated, contemporary look.
7. Honolulu Mother Of Pearl Inlay Tungsten Carbide Ring With White Diamond – 8mm
Calling all the grooms who want a ring that pops! This beveled diamond tungsten ring features a Mother-of-Pearl inlay displaying iridescent purple, blue, green, white, and black swirls like the shimmering waves in the ocean. This ring also features a white diamond.
8. Manly Bands – The Officer Blue Tungsten Ring
You don't fear danger, you get right up in there. High speed chases, fighting crime, and taking your sunglasses off while saying a very cool one liner are all part of your M.O. With this ring, you'll never be too old for this shtuff.
9. Jared Black Diamond Tungsten Wedding Band – 8mm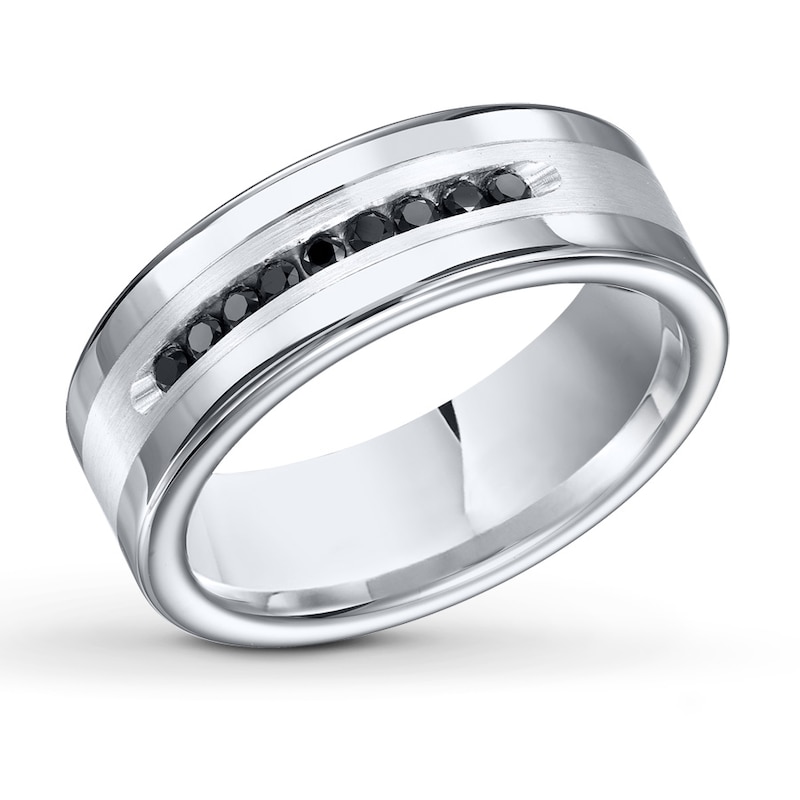 Black diamonds totaling 1/4 carat in weight streak through the center of this elegant wedding band. Styled in white tungsten carbide, the 8mm band is Supreme-Fit for wearing comfort. Black diamonds are treated to permanently create the intense black color.
10. Blue Nile – White Tungsten Carbide Comfort Fit (6mm)
The rounded interior of this comfort fit ring reduces pressure on your finger, making it feel great and easier to slide over your knuckles. Because this style takes more metal to create, it's heavier than our classic rings.
11. Manly Bands – The Cowboy Koa Wood Tungsten Ring
This koa wood tungsten ring combines traditional with contemporary. I can't legally tell you that John Wayne wore this ring (because it's not true and also he died before Manly Bands was founded), but I'm pretty sure he would have.
12. Manly Bands – Tungsten Wedding Band with Black Diamond Inlay
White diamonds tend to get all the glory, but black diamonds should be equally considered. This diamond wedding band is a classic but with a twist. The band is hammered and stylish with a unique textured look.
13. Larson – Jewelers Waterford Beveled Diamond Tungsten Wedding Band
If you're trying to find the balance between understated and elevated, Larson's diamond tungsten wedding band will make you fall in love. This polished .06 carat round-cut diamond band pairs nicely with the white gold bezel on the ring. The best feature of the band? Although it's lighter in color, it won't show scratches thanks to the tungsten carbide's natural durability.
14. Larson – SAMUEL Satin Finish Tungsten Wedding Band with 3 White Diamonds
Celebrate your love with this symbolic diamond tungsten ring. Brilliantly designed with a satin finish, the center of the band has 3 exquisite focal points embellished with white diamonds. The beveled edges elevate the ring to look like a high polished and elegant band.
15. Manly Bands – THE ZEPPELIN Comfort Fit Black Tungsten Ring
Because his ring should be amazing, too. This modern black tungsten wedding ring from Manly Bands is an immediate showstopper. Simple, with a sense of style. There's a consistent demand for flatter men's bands which can be comfortably worn on a daily basis.
Tip: If you have larger knuckles, look for 'comfort fit' rings, which are rounded on the inside. That helps them slip over your knuckles and forget you're wearing a ring.
16. Blue Nile – Hammered Comfort Fit Wedding Band in Black Tungsten Carbide
Is there such a thing as too much class? We don't think so. This band features a brushed center and polished edges for a classic look. Incorporating a textured design makes it all the more interesting.
17. Triton – Black Tungsten Wedding Band with Meteorite
Want a ring that's out of this world? This unique option pairs meteorite with tungsten to showcase a love as grand as the galaxy. This is definitely the band if you're looking for a unique, eye catching option.
18. Larson – ORO Domed Gold-Plated Tungsten Wedding Ring
Perennial classics like this never go out of style. The polished surface of this gold-plated tungsten wedding band adds a touch of modernity that can be admired by all. One of the most distinctive ring designs ever is artfully created in this sleek and shining band.
19.
Zales – Camouflage Wedding Band in Black Tungsten
It's a beautiful thing to celebrate your personal love story with a ring that is unique and meaningful to you. Celebrate with a camouflage tungsten wedding band as special as your marriage.
20. Thorsten – Celtic Knot Tungsten Wedding Ring
If you're in search of a unique tungsten wedding band, then a Celtic ring just might be the perfect choice. Full of interesting history and romantic meaning, traditional Irish rings feature intricate laser engraved details and are always sure to stand out.
21. Thorum – Black Tungsten Wedding Band with Ironwood Interior
Whether you love building things, exploring nature, or just like the look of wood, The Thorum's black tungsten ring with an ironwood interior brings you back to your roots. Say "I do" to this exquisite wood and tungsten wedding band.
12. Blue Nile – Asymmetrical Black Engraved Wedding Band in Tungsten
An elegant design featuring a modern design, this tungsten wedding band features a brushed finish and asymmetrical polished inlay for a subtle contrast of texture. There's something oh-so-cool about a black band.
23. Modern Gents Trading Co. – Rose Gold Inlay Matte Tungsten Ring
A rose gold inlay breaks up the dark tungsten color and adds a warm glow to the ring. Best suited to the fashion-forward man, this design seems set to become the "new classic".
24. Gaboni Jewelers – VICO Black Men's Tungsten Wedding Ring
This ring is full of focal points. The center of the band has intricate details like a stainless steel finish center that is embellished with cubic zirconium diamonds. The beveled edges elevate the ring to look like a high polished and elegant band.
25. Thorsten – Flat Black Tungsten Ring With Matte Center & Polished Edges
This highly sought-after style from the brand's Thorsten Black Tungsten Rings collection features a flat pipe-cut shape black Tungsten Carbide band with a beautiful brushed finished center and polished finished edges. Can be worn as a wedding band or promise ring.
26. The Artisan Rings – Passionate Purple Grooved Black Tungsten Ring with Beveled Edges
It's not often that you spot someone wearing a purple wedding band, which makes this stone the ideal option for unconventional grooms. The deep violet hue is far from traditional, purple engagement rings will still stand the test of time.
27. Blue Nile – Brown Two-Tone Espresso Tungsten Wedding Ring
One plus to a tungsten carbide is that it can be IP plates for any color making each ring one of a kind. If you are looking for an alternative to gunmetal gray, brown/espresso is a great choice. With tungsten, you really have the ability to choose a wedding band that best fits your personality and style.
28. Kay – Sapphire Wedding Band in Black Tungsten
This black tungsten wedding band has a striking contrast with its deep blue sapphire inlay. Sapphire tungsten rings are more affordable than diamonds. Sapphires also come in a variety of colors (not just blue!) such as purple, pink, yellow, green, orange, brown, black, and even white— although Kashmir and Ceylon blue are the most sought after.
29. Larson – Tungsten Wedding Band With Blue Green Opal Inlay
If you can't decide on the color of your band, why not opt for a two-tone ring? This tungsten wedding band has a blue opal inlay and a shiny edge, seamlessly combining two hues and finishes in one handsome ring. You can even add an engraving for further personalization.
30. Zales – Triton Comfort Fit Tungsten Wedding Band (4mm)
If a sleek tungsten wedding band is what you're after, say no more. This simple-yet-sophisticated 4.0mm wide band features a bright polished finish and a rounded interior that gives the ring a comfortable fit. As the adage goes, sometimes less is more.
How to Care for a Tungsten Carbide Ring
Because tungsten wedding bands are so durable, they require little maintenance. The best way to care for your Tungsten ring is to ensure you don't drop them on hard surfaces such as marble or cement, since they can crack.
How to clean a tungsten ring
Simply mix some warm water with a few drop of household detergent in a container.
Scrub the ring with a cloth and a toothbrush
Finally, rinse the ring using clean water and wipe it dry with a clean cloth.
Pros and Cons of Tungsten Wedding Bands
Tungsten rings are extremely durable. They resist scratches more easily than other metals like platinum and gold. Tungsten rings look especially good when set against inlays like wood, meteorite, diamonds, and precious gems. One drawback is its weight, as tungsten is heavier than other precious metals. Tungsten is less expensive than gold, and platinum rings.
Tungsten carbide rings have a lot going for them. The affordable wedding bands are significantly cheaper than gold or platinum, and they are hypoallergenic and scratch and tarnish resistant. Tungsten carbide is a hard, durable material that will remain polished virtually forever.

Of course, there are some shortcomings that coincide with purchasing a tungsten carbide ring. For starters, there's a chance your supplier may be offering a ring with a purity level that is lower than 80 percent. Second, "because of its natural hardness properties, the ring is susceptible to cracking if dropped on a hard surface like cement or marble," Rector notes.
And because tungsten isn't malleable like gold, it can't be resized. It's also worth noting that tungsten carbide rings are typically heavy—though Rector says they are a comparable weight to platinum—which can be a plus or minus depending on your preference.
What To Look For When Buying A Tungsten Ring Online
Since viewing an engagement ring online is a little different than viewing it in person it's important to familiarize yourself with the width, fit, structure, finish, and other options to help you better understand exactly what the ring will look like.
Width:
The most common men's tungsten wedding band is between 8 and 10 mm. Women's tungsten bands are most often 6mm-8mm wide. That said, widths can create a unique look, so don't be afraid to shop for something bigger or smaller, depending on the overall vibe you want to achieve.
Thicker wedding bands make a statement and tend to be more comfortable for men with larger hands.
A thicker band may come at a higher price point (thanks to using more metal), so be sure it's something that can be comfortably worn on a daily basis.
Fit:
In general, your ring should gently slide over the knuckle (with smooth sides for comfort), but still fit snugly on the finger.
Finish:
Finishes on tungsten rings are popular. A finish can really set the wedding band apart and help your ring standout.
Whether you long for a more textured look found in matte, brush, hammered, sandblast, satin, or high polish, a finish is a final touch that will truly make your band your own.
Matte. Gives a flat look that isn't shiny or reflective.
Satin. Gives the ring a smooth and shiny look. However, it doesn't reflect light, cutting down on the flashiness.
Brush/Cross Satin. Gives a textured look. The overall look of this cross-hatch finish appears as if it was made by a wire brush.
Sand Blast. The "rough" look — there's absolutely no shine or reflection.
Hammered. This finish varies depending on the type of hammered used, along with the direction and strength of impact.
High Polish. Gives the ring a reflective, shiny surface.
Structure:
The most popular men's wedding bands styles are structured in two ways:
Dome. Sometimes called a D-shape, a dome structure on a wedding band gives it a rounded appearance on the surface and edges of the ring that some men find more comfortable.
Flat. A flat shape on a men's wedding band is exactly what it sounds like: A band with no curves and straight edges on the ring.
Inlay:
Many grooms utilize the addition of stones to make their tungsten wedding bands unique. If you still want the bling look but don't like the risk of missing stones or snags, consider an inlay setting instead. This look, involves cutting a small channel into the ring with stones set in a row inside the channel, making the gems more secure.
A few other inlay options include precious metals (gold), meteorite, dinosaur fossils, wood, and deer antler among others.
Interior:
Yellow gold, white gold, and rose gold are the most common choices for wedding band interiors, but alternatives such as high polished tungsten can be used as well. There are no hard and fast rule here.
RELATED:
Did you know?
The best time for accurate ring sizing is near the end of the day. Your finger size will change slightly throughout the day, depending on temperature, weather, activity, etc.
How to Care for a Tungsten Ring
Tungsten carbide is very resistant to corrosion, making it a very low-maintenance metal. The tungsten is extremely hard and does not scratch easily.
Remove your ring when using chemicals to reduce daily abrasions and prolong the polish. When not worn, store your tungsten to protect it from the elements of daily exposure.
Tungsten is easy to polish at home, which can save time and money since you don't have to take it to a professional jeweler for cleaning. Use a gentle cleaner or mild dish soap and warm water to clean it.
Tungsten Wedding Band FAQs
Is it safe to buy a wedding ring online?
It is completely safe to purchase your wedding band online. In general, many retailers accept returns or exchanges but since every retailer is different, it's important to read all shipping and return policies before you purchase your ring. Engagement rings that are custom-made are usually not eligible for returns or refunds.
How can I tell if the ring is high quality?
A tungsten carbide ring should be at least 80 percent tungsten. Sometimes sellers will use an expensive filler in place of tungsten, causing the value and integrity of the ring to diminish.
How can you tell if a tungsten ring is real?
High quality tungsten rings don't have seams, or have smooth seams. High quality tungsten rings also require skilled, precision machining, grinding, and polishing. Cutting corners may result in thick, asymmetrical rings with inconsistent finishes and sharp edges. Cheap tungsten rings are made with cobalt instead of nickel. Tungsten rings on Amazon are cheaper due to lower quality craftsmanship and materials.
Why are tungsten rings on Amazon and Walmart so cheap?
Tungsten rings on Amazon are cheaper due to lower quality craftsmanship and materials. Cheap tungsten rings are made with cobalt instead of nickel. High quality tungsten rings also require precision machining, grinding, and polishing. Cutting corners may result in thick, asymmetrical rings with inconsistent finishes and sharp edges. Cheap tungsten rings may also take on a dark cast and discolor after a few months.
Is black tungsten scratch proof?
Tungsten is extremely scratch resistant, but the outer surface of plated black tungsten rings is titanium which is not as scratch resistant. Over time, plated rings can show signs of wear.
Do tungsten rings fade?
Tungsten rings with IP plating require extra care and should be taken off when working. Colored tungsten rings may fade with time and generally are more susceptible to scratches.
Can tungsten carbide rings be resized?
Tungsten isn't malleable like gold, and it can't be resized. Consider buying your regular size as well as a half size up and keep the one that fits the best.
If you buy a ring 6mm or wider, you may need a slightly larger size than what a ring sizer will tell you due to how much of your finger the ring will cover.
Are tungsten rings waterproof?
You can wear your genuine tungsten carbide ring in the shower without having to worry about it rusting or corroding. If you forgot to take off your tungsten ring before taking a shower, you can simply air dry your ring right after.
Should tungsten rings be a little loose?
As a general rule, your ring should be able to slide over your knuckles easily, but take a bit more to come off. Turning and tugging for two to three seconds to remove your ring is actually normal. Your ring should fit snug around the base of your finger without any bulging or leaving indent marks.
What is comfort fit?
This type of fitting is defined as a ring that is domed in the interior (where the ring touches the finger), instead of flat, like Standard Fit. This type of fit is most commonly used in rings that are difficult to resize, such as tungsten, ceramic, cobalt chrome and titanium.
What is domed fit?
Curved or domed wedding bands are one of the most classic and popular men's wedding ring styles that has stood the test of time. The curved edges allow for increased comfort and ease of taking your band on and off.
Is it better to get a bigger or smaller ring?
Remember, it's definitely better to size a ring up if you're unsure. A ring that's too large is easier to adjust than a ring that's too small. If you buy a ring 6mm or wider, you may need a slightly larger size than what a ring sizer will tell you due to how much of your finger the ring will cover.
Are tungsten rings safe?
Similar to gold, titanium, and platinum rings — tungsten rings have safety concerns that you should know about before purchasing. Tungsten can be broken with vice grip pliers, or similar tool to gently squeeze on the ring until it breaks. Like other metal jewelry, tungsten rings are safe to wear unless you are allergic to metal. Some other safety concerns with metal and tungsten rings include electrical conductivity, toxicity, and ring rash.
What is a ring avulsion injury?
Ring avulsions are usually the result of an accident, such as a fall or a mistake made when using machinery. In severe cases, the ring finger may be severed, detached, or surgery may be needed to repair blood vessels/tissue.
In 2015, Jimmy Fallon spent 10 days in the ICU because of a ring avulsion. During a six-hour surgery, the doctor performed a graft by taking part of a vein from Fallon's foot and placing it in his finger. This restored blood flow to the finger.
Should a tungsten ring break?
Tungsten is the hardest metal on earth. This means that instead of bending like a gold ring, tungsten has to break. Reputable jewelers who sell tungsten wedding bands will never tell you tungsten rings can't break or are indestructible.
Is tungsten or titanium better for a ring?
Tungsten is more solid and durable, it has a heavier weight when worn. Titanium, on the other hand, is incredibly lightweight. If you prefer lightweight materials, stick with titanium. Tungsten is more scratch resistant than titanium, the rings are comparable in price.
Share This Article
Whether you're after a traditional look or something as unique as your relationship, there's a wedding band out there for everyone.
There is definitely no harm in thinking outside of the box when it comes to selecting a beautiful wedding band. In the end, it's all about finding the perfect fit for that left ring finger.
If you found this listicle of the best tungsten wedding bands helpful, please share it with your friends and followers!
:: saves for later ::