Looking for the best instant ramen ever? Instant ramen noodles come in almost limitless varieties.
So I listed the top brands from 'Best Chicken Flavored' to 'Best Beef Flavored' to 'Best Splurge' to 'Best Overall' … You get the idea!
These slurp-worthy instant ramen noodle soups come together in minutes — just add hot water!
This article may contain affiliate links. Learn more> Disclosure.
Best Instant Ramen Ever
Here are the best instant ramen soups you'll ever slurp!
Related: 7 Spiciest Instant Ramen Noodles In The World (2023)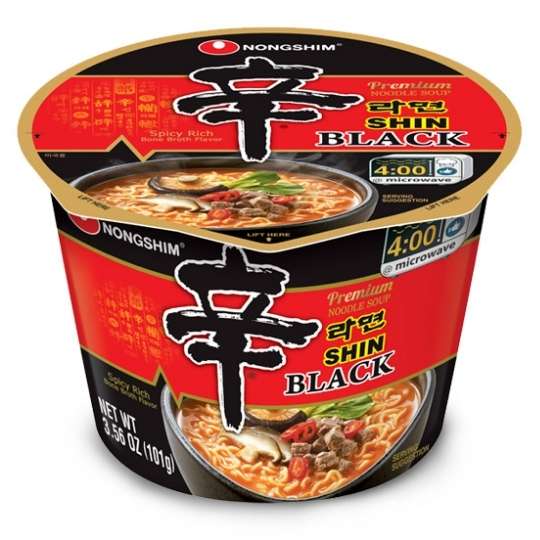 Shin Black is my new instant noodle bias. This premium version of NongShim's popular noodles, is still way cheaper than a night out. The best-selling Korean brand tops most "best of" instant ramen lists.
This iconic, spicy instant ramen is currently also Amazon's #1 best seller. It has an awesome combination of a thick broth, rehydrated veggies, and chewy noodles. The savory, creamy broth is not too spicy. Pieces of garlic, mushrooms, and green onions provide extra texture.
Shin Black's noodle is chewier and bouncier than the regular Shin. Shin Black also has 2 broth packets – the chili mix kicks up the spiciness and the soup mix which makes the broth thicker and tastier. Red Shin only has 1 broth packet, but it makes a super spicy broth.
Related: 12 Best Japanese Whiskey Cocktails
Sapporo noodles contain a bit of potato starch and guar gum, giving their noodle a slightly chewier, "fresher" texture. But the real reason Sapporo is the winner comes down to broth. It simply tastes more chicken-y, with a balanced onion and white pepper taste like real soup!
This popular instant ramen is perfect for dinner. If you're looking for a quick meal that's affordable, try Sapporo Ichiban Momosan instant ramen.
These noodles are also easy to gussy up…before you know it, they're an actually filling meal.
Step away from the white cup. Nissin takes instant tonkotsu pork flavored ramen to another level. We're talking massive amounts of authentic flavor. But that's not all; the thick, noodles are chewier than most other noodles. Dried scallions make the ramen feel more like a complete dish.
The simplicity of this pork flavored instant ramen makes it a great meal, and those picky ramen people in your life. The tonkotsu broth is well flavored, not overly salty, and looks like a homemade pork tonkotsu with its creamy white color.
The seasoning contains sesame seeds and a separate sesame oil packet. Their nuttiness comes through.
These are legitimately perfect. The taste can be described as the perfect balance of salty, sour, and spicy. Each product comes with three flavor packets, one of which has chili powder. So, if you're a chili lover, this will certainly spark a smile.
You can skip the chili pepper taste altogether if you're sensitive to it. While this product has MSG coupled with other additives, you can give it a try on dreary and busy days for a new experience.
For a healthy twist with a burst of flavor, you can add toppings such as mushrooms, eggs, chicken, and beef strips to the ramen.
Do you enjoy the complex flavor of Thai cuisines? Then the Mama Noodles Instant Shrimp Tom Yum flavor is right up your alley.
Maruchan is my favorite instant noodle. You can't beat a classic! Maruchan has the best of the beef flavors. This iconic instant ramen goes much deeper in emulating the taste of browned beef. There's a little more zing, a little more pepper and overall a much more nuanced development of flavors.
This instant ramen is an excellent pantry staple when you need something to eat asap. You'll be glad the next time you decide to stock up at the grocery store. Umami-packed and slurp-ready.
Due to its very reasonable price, and bouncy noodle, its are the best for customizing with your favorite veggies and toppings. Skip the egg and add seared chicken or meat. And top with a smattering of chili crunch.
Cheese flavored ramen noodles never tasted so good. This spicy ramen is basically the original Samyang Hot Chicken Flavor Ramen with a cheese powder packet. The cheese here helps cool this down. But, they are still pretty hot.
The noodles are super good with just the right amount of chewiness and springiness. Far superior to the cheap stuff. The cheese makes things interesting. For more creamy, cheesy flavor, simply add a slice of American cheese from your fridge.
Fun Fact: Cheese on ramen is a Korean thing. When American soldiers came to Korea during the war, they brought rations including American cheese.
This Cheese Buldak has a Scoville rating or SHU of 2,323.
It's spicy!
Does a hot veggie soup tickle your fancy when the chilly days roll around? Then the Nongshim Soon Veggie Noodle Soup is your Holy Grail. Made from100% vegan-friendly ingredients, the veggie broth has a hearty, mild, and pure flavor that nearly everyone will find appealing.
Despite the absence of meat, the Nongshim Soon Veggie Noodle Soup is surprisingly yummy and packed with an array of flavors.
The excellent quality ingredients and great taste make this product one of the best Korean instant ramen options.
Much like other brands of instant ramen, the Nongshim Soon Veggie Noodle Soup is packed in cups, making it perfect for bringing along on travels and other outdoor activities.
If you like your noodles spicy, this ramen does just the trick when you're looking for something toasty! It's super affordable and perfect for customizing with cheese and vegetables.
There's something about Maruchan. The brand has been around for a long time and are trusted for great quality and flavor. Their super popular chili flavor if worth trying!
This Maruchan instant ramen goodness leaves your lips tingling and your mouth feeling the slight burn.
The chili flavor is absolutely fantastic.
Best of all? It's cheap—you can easily buy in bulk online for less than 50 cents!
Curry ramen is a crowd favorite worldwide, and MAMA's thai green curry soars to the top of the list. With shrimp, green nira, mung bean sprouts and coriander it's complex and satisfying.
MAMA's as a brand has a reputation for offering delicious ramen. Their thai green curry ramen exemplifies that excellent reputation.
The noodles are thin and plentiful with a good texture and chewiness. The broth has a really nice heat to it and more than I expected.
The flavor is excellent! Curry is the real winner here.
These taste like ramen from a restaurant. With the hearty, shrimp-based broth, this meal is more filling than basic chicken ramen, too, with more than double the amount of protein per serving.
Adding lime and some fresh herbs to these for a hit of brightness would take them to the next level. The broth has a coconut flavor that you won't be able to resist.
The noodles are air-dried (not fried), thick and longer than other ramen noodles.
Singaporeans are famous for their obsession with instant noodles. This famous shrimp-flavored instant ramen is a must try!
Mike's Might Good instant ramen cup is sooo good. This is my favorite organic instant ramen. Made from the best organic, non-GMO noodles that are never fried but steamed instead. Mike's Might Good Ramen comes in various flavors like chicken and beef, and is a healthier option.
The noodles are bouncy and the broth is thick. This makes it a perfect base for customizing. My favorite is a little lemon and hot sauce. And maybe some mayo. Don't knock it until you try it! Mayonnaise in ramen is very tasty.
Packed in a convenient cup, this ramen is ideal for carrying on the go. Simply add water. If you're watching your sodium intake, this organic ramen cup 40% less salt per ounce than the leading ramen brand.
C'mon, if it's organic you know it's going to be good. This will be a favorite for anyone who tries it.
Are you watching your carbs and craving ramen noodles tonight? You're in luck because Shirataki noodles are a carbless noodle everyone will love.
It's so simple, yet incredibly delicious.
Ramen, but make it low-carb. Just add your favorite ramen base, toppings, and seasonings for restaurant-style ramen in the comfort of your home.
What are shirataki noodles?
Shirataki noodles are long, white noodles that consist of a type of starch known as glucomannan. The body does not digest this starch, making shirataki noodles very low in calories and carbohydrates.
Shirataki noodles (aka miracle noodles, konjak noodles, or konnyaku noodles) is an ingredient popular in Japanese cuisine. Shirataki noodles are almost zero calorie and zero carb.
Honorary Mention: Best Other Instant Noodles
What are the spiciest instant noodles in the world?
The spiciest noodles in the world clock in at 1,000,000 Scoville Heat Units (SHU). MAMEE's Daebak Ghost Pepper Spicy Chicken Noodles are the planet's hottest instant noodles.
Malaysia's nuclear noodles even have a Scoville Heat Unit scale printed on the cup to warn others of the spice level.
Spicy chicken with dry black noodles is a doozy—it lingers on your tongue for minutes after you finish each bite. If you can handle that much heat, though, go for it—the noodles are delicious!
Simmer broth for hours? No thanks! This instant Pho is ready in minutes, and is pretty close to restaurant pho.
The aromatic broth, is scented with anise, warming spices, and dried scallions. The tasty noodles include thin slivers of "beef" made from wheat protein. The soup is savory, and the sachet of oil adds depth with some welcome fat.
Just add more veggies, spritz on lime juice, beef, sprouts, and herbs to make this a full meal. Choose your own Pho adventure.
Did someone say soba? This is the most beloved instant soba noodle in Japan. It's no secret the delicate broth, crispy tempura, and chewy noodles are the stars of the show.
The konbu (seaweed) flavor is popular in Japan, partly due to the bonito stock with sansho pepper. And there's something about buckwheat soba that feels a little more elevated.
This Nissin tempura soba is a must-keep pantry option to have on hand for when the time is right. Seriously slurp-worthy.
Related: 10 Best Soba Noodles
These instant udon noodles do not disappoint. Dare I say it's as good as restaurant udon?
This beloved Korean instant noodle is known for two things: thick udon-like noodles and a spicy seafood broth with actual dried seafood.
It's fantastic with any fishy topping or add-ins.
Lastly, the high-quality broth with actual dried seafood will sell you on this instant udon soup you can feel good about eating.
If you're familiar with famous Japanese cuisines, then you're probably familiar with Yakisoba, stir-fried instant ramen. The packet comes with a spicy soy sauce, mustard mayonnaise, and dried veggies for a burst of flavor.
To ensure the Japanese-style Myojo Ippeichan Yakisoba instant ramen noodles have a fried texture, you'll require shaking them for up to 10 seconds.
Doing so allows the sauces to coat the ramen entirely and uniformly. Don't forget to add the included mustard mayonnaise at the end to step up the flavor of the noodles.
The spicy, tangy, sweet sauce of these Korean noodles will wake up even the dullest of palates.
Cook the noodles until they're just al dente, or still a little firm, then rinse them under cold water to get rid of any residual starch and achieve peak bounce and chew.
The sauce packet is an excellent salad dressing, too. Add some chopped cucumber and hard-boiled egg for a clutch midnight snack, or add some ice cubes for a cooling summer treat.
Rounding out the list is Indomie's Mi Goreng dry noodles. These noodles are piled high with flavor and not your average instant ramen.
Mi goreng is actually intended to be a dry fried noodle. Indomie's legendary ramen flavor is Mi Goreng. The complex sweet/salty/spicy flavor is savory and not overly spicy.
These dry barbecue-chicken-flavor instant noodles from Indomie feature black-garlic noodles and tiny packets of chicken-flavor seasoning, fried onions, seasoned oil, chile oil, and a thick, sweet soy sauce. Indomie is produced in Indonesia.
Stock up on one of these top instant ramens to keep in your pantry for those moments when you need an easy meal stat.
You cannot go wrong with these premium quality instant jajangmyeon noodles! The thick and chewy noodles are coated in that sought-after black bean sauce. There is a generous sauce to noodle ratio, so you really don't feel like you are eating instant noodles.
Made with a thick blend of spices, the sauce also includes dehydrated cabbage and peas, which cook up to become tender, adding more bulk to the noodles.
The noodles and the jajangmyeon sauce taste fresh and have an authentic taste, exactly what you want from fresh noodles, just without having to worry about cooking them from scratch!
The best spicy vegetarian ramen ever!
Where To Buy Ramen Noodles
Trying to figure out where they keep the instant noodles in the grocery store?
Usually, you'll see instant ramen in the international aisle. Look on the shelves with Asian products—they'll probably be with other types of noodles.
Some stores keep instant noodles in the snack aisles with chips. If you haven't been able to find instant ramen near you, check one of the stores listed below…
What Stores Sell Instant Ramen Soup?
Amazon – The most convenient way to buy instant ramen noodles.
Walmart – Walmart sells instant ramen online and in the stores.
Your Local Store – Your local bodega, gas station, and convenience stores like 7-Eleven, are known to carry instant ramen cups.
Whole Foods – If you stop at Whole Foods, you'll find instant ramen in the aisle with Asian products.
Kroger – Look in the international aisle for several brands of instant noodles in-store.
Wegmans – Live near a Wegmans? Look in the international products aisle for instant ramen noodles.
Asian Markets – You're very likely to find instant ramen at your local Asian market.
What to Look for in Instant Ramen
Packets vs. Cups/Bowls
Walk into your local grocery store or search online and you'll find instant ramen sold in either packets or in cups/bowls.
The advantages to packets of instant ramen include that it usually saves money, allows you to buy more instant ramen in bulk, and many packets can be stored in a suitcase if you're traveling.
The advantage of bowls is easy preparation and serving. You can often microwave or add hot water to instant ramen cups/bowls to cook the noodles.
Flavors
Identifying the type of protein (chicken, beef, veggie, curry, shrimp…) is a great place to start when trying a new instant ramen.
But it can get even trickier than that.
Keep an eye out style and heat level (spicyness), usually written somewhere on the packaging.
Price
Instant ramen is generally very affordable. In fact, many people choose instant over the real thing simply to save money and because they don't mind the difference in taste.
However, instant ramen noodles can vary in price, from very cheap to more expensive boutique brands. Experiment with a few different options.
Just because ramen is more expensive doesn't mean it's the right one for your taste buds.
How To Make Instant Ramen Even Better
For a heartier meal, add veggies like sprouts, thinly sliced onions, chopped tomatoes, kale, spinach, bok choy, or your other favorite vegetables.
Add a fat like sesame oil, cheese, or mayonnaise to your ramen for more flavor.
Add dried herbs like basil, dill, cilantro, garlic, or oregano for easy flavor bombs
Cook your instant ramen noodles with canned soup for a heartier meal
Add a protein like egg, sliced ham, cooked shrimp, or cooked meatballs
Garnish with fresh herbs, nori, green onions, sesame seeds, or shiitake mushrooms
Up the umami flavor by adding soy sauce, fish sauce, or oyster sauce.
Add heat with your favorite hot sauce
Add a squeeze of lemon for extra zest and vitamin C
If you're not in the mood for noodle soup, transform instant ramen into a vegetable-packed stir-fry or salad.
Don't cook your ramen for as long as it says on the package. Undercooking your noodles by one to two minutes makes them perfect by the time you're ready to enjoy them.
Cook your noodles separately to make them less gummy. Cooking your noodles in a separate pot can improve their texture and washes away extra starch.
Instant Ramen FAQ
What is the most popular instant ramen?
Ramen has been a staple of Japanese cuisine for nearly a century, but the noodle dish only made its way to the United States after the invention of instant ramen in the 1970s.
Nissin CUP NOODLE is the most popular instant noodle product of all time. The brand is very strong in the US and Japan.
Can you cook instant ramen in a microwave?
Yes, you can microwave ramen noodles. Just remove the packaging and put the instant noodles in a microwave-safe bowl. If you bought ramen in styrofoam, you have to remove the noodles and seasoning packets and cook them separately.
Does instant ramen have MSG?
Most brands of instant ramen contain monosodium glutamate (MSG). It's an additive used to enhance the flavor of savory foods.
How are ramen noodles are made?
Instant ramen noodles are made with wheat flour, water, salt, and kansui, an alkaline water that adds elasticity to the noodles. First, the ingredients are kneaded together to make a dough. Next, this dough is rolled out and cut into thin noodles. The noodles are then steamed and are finally packaged after dehydration.
Is instant ramen healthy?
Ramen is considered unhealthy because they contain MSG, are high in sodium, and include a food additive called Tertiary-butyl hydroquinone. These ingredients may negatively affect health, such as by increasing your risk of heart disease, stomach cancer and metabolic syndrome. BPA is also widely used in the styrofoam cups that Ramen often comes in.
Though instant ramen noodles provide iron, B vitamins and manganese, they lack fiber, protein and other crucial vitamins and minerals. Ramen noodles can be healthier when combined with other ingredients like vegetables, herbs, and protein to create a healthier meal.
Who invented ramen noodles?
The first iteration of instant ramen dates back to 1958 Japan, when Nissin Foods introduced 'Chicken Ramen', the first instant ramen. Momofuku Ando, the Taiwanese-Japanese inventor of instant ramen also created Nissin's Top Ramen and Cup Noodles. Instant ramen really took off overseas around 1971, when Ando invented Cup Noodles. The first instant ramen served in a cup.
Is ramen from China or Japan?
According to the record of the Yokohama Ramen Museum, ramen originated in China and made its way to Japan in 1859. Early versions were wheat noodles in broth. Ramen-noodle shops first sprang to popularity in both countries in the early 1900s, and the noodles were actually called "Chinese soba" noodles in Japan up until the 1950s.
Share This Article
If you found this article on the best instant ramen noodles helpful, please share it with your friends and followers!